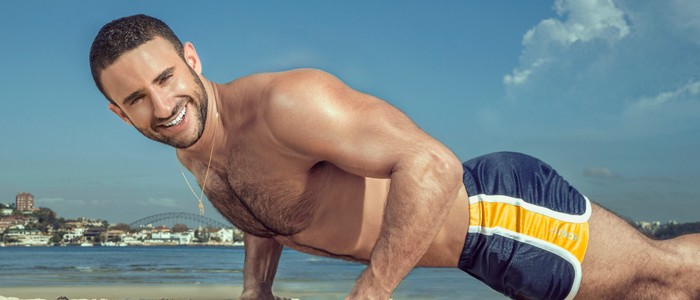 Fresh from a sexy photo shoot with BCNU clothing; model, entrepreneur and social media celebrity Eliad Cohen sat down with express to talk family, fame and fabulous parties.
Since 2012, 25 year-old Eliad Cohen has become the iconic face of gay masculinity, gracing magazine covers around the world. Determined to be more than a model, Cohen created the Papa circuit party brand and expanded it from his hometown of Tel Aviv into an international touring phenomenon. 2014 was the party's first taste of Australasia, when it touched down in Sydney last February. He promises New Zealand is in his sites.
"I always wanted to be an actor," Cohen tells us of his childhood ambitions, saying he developed a taste for the stage in high school. However growing up in Israel, he had to undertake three years of compulsory army service which changed his priorities.
"I learned a lot about myself, the world, health, fitness and a lot of hard work. I'm very glad that I had the opportunity to challenge myself at such an early age… It definitely set the stage for the drive to achieve my goals and constantly push myself harder", he says, referring to his service with an unexpected glow.
Cohen came out to his family aged 20. He denies that his time in the army was hindered by his sexuality, or visa versa. "It's hard for many people to be gay when they're 18 years old. I was still figuring out my sexual orientation, working really hard and sleeping very little. My social life wasn't exactly exciting while I was in the army, but I had one important personal relationship with a senior commander that would inform my gay identity as I grew older," he reveals, conjuring up a bevy of camouflage-clad fantasies.
For Westerners surprised that someone from Cohen's background can have such self-acceptance of their sexuality, he is quick to set them straight. "Tel Aviv is a very liberal city… Israel as a whole is slowly improving… Currently, same-sex marriage is not legal in Isreal, but same-sex marriages from other countries are recognised… I'm very lucky to have such a supportive family," he says, confiding he is especially close with his mother.
Cohen is clearly proud of his heritage, demonstrating it with the pendant he wears around his neck. "It says 'chai,' which is the Hebrew word for 'life.' It's a good luck charm and it's supposed to protect you. I never take it off."
Cohen does not get to spend much time in his home country these days, despite having his family and his business Gay-Ville (a gay-friendly accommodation website) based there. Most of the year he is hosting the ever-expanding circuit of Papa dance parties that he produces and took on the road after successfully launching at Tel Aviv Pride in 2010. A year later the Papa parties were filling arenas in New York.
One of the parties' unique features is how they have been promoted with social media videos, renowned for their stylized concepts and quirky, often-controversial humour. They also allow Cohen to tap into the inner-actor that he dreamed of becoming in his school days. His personal favourites include the promo for an NYC party co-starring a lycra-clad midget and transsexual model Amanda Lapore Depictions of Eliad and his hunky model costars in traditional Middle Eastern dress in many of the videos have raised conservative eyebrows, as have the comic depictions of domestic violence. Cohen has presented with frequent collaborator Israeli drag queen Uriel Yekutiel to promote their Tel-Aviv-based Arisa parties (which exclusively play traditional Israeli Mizrahi music for their LGBT audience). 
"I'm most proud of is the artistic direction of the parties. I spend a tremendous amount of time working on themes, musical direction, costumes, visuals, etc. It's a lot of work, but it's fantastic!
We want the parties to be a positive and upbeat experience, where people leave happier than when they arrived," he says.
The fame Cohen has received since becoming the cover model of the Spartacus International Gay Guide in 2011 catapulted his profile, has been both a blessing and a curse. "I love getting to travel all over the world and meet new people. It's great to be known in that sense, so that I get a chance to meet people that I never would have met. I guess the worst part is people assuming things about me without actually having a conversation with me," he admits.
Whatever people may assume about him, Cohen's brand has become an internationally sort-after success, as his latest gig as the face of Aussie Sportswear Label BCNÜ proves. "I often describe the BCNÜ style as addictive, masculine, sporty & cheeky – the same words could be used to describe Eliad, making him the perfect ambassador for the brand," BCNU's Director and Founder Paul Zack tells us, explaining the partnership will see Cohen add 'fashion designer' to his resume as he will release his own line for the label.
Cohen promises it won't be long before Papa-pandemonium (his equivalent to Beiber-fever) will hit our shores. "You can count on it," he tells us. "We're planning on coming back to Australia and [visiting] New Zealand before the end of the year, so I'll keep you updated!"
Article | Oliver Hall. Feature image:  BCNÜ FIT Bermuda (Gym/Swim) Shorts.
All clothing is available at here. Free worldwide shipping on all orders.