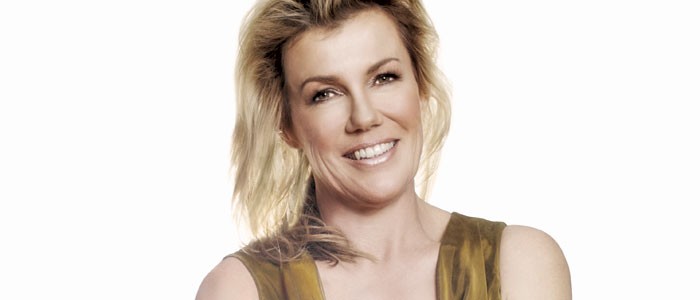 In her first gay media interview, Robyn Malcolm discusses gay actors, getting naked and standing up for what you believe in.
It was in Bertolt Brecht's Threepenny Opera that Robyn Malcolm made her acting debut. She now returns to the stage for ATC's production of one of Brecht's lesser performed pieces, The Good Soul of Szechuan. She is passionate about the play because it asks, 'is it possible in an economic environment of abject poverty to be good?' She plays the part of Shen Te who begins to run her business into the ground by being too kind to people. Shen Te creates a male alter ego for herself and begins to live more ruthlessly. Her business becomes a success, but at what cost? "Given the nature of politics today: the austerity measures being taken in a lot of European countries, a lot of modern democracies pushing towards the right and casino capitalism, and the gap between rich and poor getting wider, I think it's an incredibly relevant piece," she tells us.
Malcolm has always taken a stand for the causes she believes in. She remains proud of the stance she took with the actors union campaign against The Hobbit. "It got genuinely nasty," she tells us about the backlash she faced. "But I totally understood why. That issue divided the industry. It was about jobs security on both sides. The fact that the government changed the employment laws on the needs of one, not all, but just one Hollywood production company was pretty extraordinary." However now the dust has settled she feels NZ actors are now in a better position. "Actors Equity is one of the fastest growing unions in the country… Time and distance and hindsight has taught people a lot."
For reasons that include having played Cheryl West on Outrageous Fortune for six years, after The Hobbit controversy, Malcolm stopped getting cast on NZ television. She followed the kiwi trend and headed to Oz where she picked up roles in Rake and Upper Middle Bogan and gained critical acclaim for her performances. "That's the amazing things about this industry, that you just never bloody know. You can wake up one morning in a state of despair, with no reason to be despairing, and you can wake the next day with ridiculous hope and ambition with no reason to be feeling that either," she says.
Returning to NZ to film drama Top of The Lake, she also secured her latest protagonist role on Agent Anna, a show she helped create as an Executive Producer. "It's a fluffy title which means I can shoot my mouth off every now and then and I get to be involved with a lot of decisions. I'm slowly learning about the whole nature of producing television." However her ultimate goal remains to be, "a really, really old actress and still work. They're the best because they have so much experience."
Malcolm believes that although things have improved for openly gay actors in her two decade career, there is still a predicament. "It's an issue now that there are a lot of great gay actors around, particularly in Hollywood, but the gay roles will be played by a straight actor, because the straight actor is the star. There are a bunch of really talented gay actors out there who are not given a look in," she tells us. "There's still a nervousness around [openly gay actors getting major roles] because so much of it is about marketability and a broad appeal."
It has been Malcolm's portrayal of strong soulful women that has elevated her to the status of gay icon, both here and overseas. "Apparently I have a really strong lesbian following in San Francisco," she says. "A lesbian friend of mine who travels there a lot told me they all watch Outrageous Fortune on Netflicks and are big Cheryl West fans!"
The saucy role of Cheryl remains Malcolm's most recognizable work. Gritty story lines, sizzling sex scenes, cast chemistry and buckets of nudity; all contributed to making Outrageous Fortune one of the greatest kiwi dramas of all time, and insured Malcolm still gets asked to take her kit off. At 49, this is a request she remains completely comfortable with. "I think female bodies of all shapes and sizes are a beautiful creation," she states, telling us that two years ago, "I was asked to sign a contract in Australia that had a full nudity clause. I said if you are willing to put a 47 year old unenhanced woman, naked on television then I applaud you," giggling, "but I have to warn you, it's less Playboy and more National Geographic."
Robyn Malcolm's Best & Worst TV shows:
Best – Family Guy: "Because nothing is sacred. We're all so PC now."
Worst – Game of Thrones: "I can't stand that misogynistic bullshit."
The Good Soul of Szechuan plays at Q Theatre till Sunday 17 August. For tickets go to www.atc.co.nz.
Shoot Director | Tux Hika
Make Up | Sam McGregor for Beauty by Boy using Mac Cosmetics
Hair | Mary Estelles using Redken
Dresses | TK Store, Brown St, Ponsonby.
Article | Oliver Hall. Photos | Danilo Santana David for express