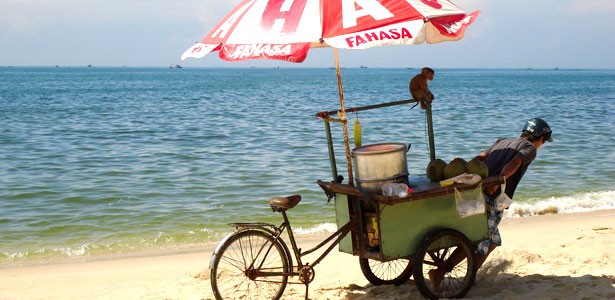 Travel scribe Richard Todd explains getting off the beaten track away from Bali can be worthwhile – especially if the alternative is a few weeks in Vietnam!
After many enjoyable breaks over the years in Bali I could not stop noticing – and getting aggravated – by the often-filthy beaches, expensive hotels in Seminyak and non-existent infrastructure. So where else? A longer exploratory trip last year to Thailand, Cambodia and the Gilli Islands all delivered but not in the way that Bali can do – with its culture, style and refrained sex scene. So I recently tried South Vietnam.
I have to report I really enjoyed my time there and in a little over 2 weeks managed to fit in a real mix of experiences while still having a week to blob on a pristine beach.
Lonely Planet describes the swarms of motorbikes in HCMC as being of "biblical proportions". How accurate! But a real surprise was the order and beauty of the place.
Over 100 years of French rule have left a sophisticated city that is built around wide boulevards and well-kept central parks. The great food is a given, and interesting sites include: museums on the American war and Independence Palace, the home of the old South Vietnamese ruler complete with helipad and Gestapo like dungeons. Significant displays of wealth are everywhere to be seen including top end shopping centres that make NZ's look third world!
A further treat is Dalat, which is an eight hour trip by sleeper bus into the cool highlands. A sort of Swiss resort in Indochina! My favourites here were a 1950's French lunch at Café de la Poste and the last Emperor's Art Décor Palace – a time capsule from when he left in 1955.
Being a motorbike nut I was keen to experience 'Easy Riders', a motorcycle tour operator that have a range of multi day trips centred around Dalat. My friendly rider took me through forests and villages down deserted country roads and into coffee plantations to my next destination, MuiNe on the coast. This is a 10-kilometer strip of resorts, shops and bars along a beautifully clean beach. Hundreds of fishing boats ply the coast so fish restaurants are everywhere. Just get used to eyeing what you are going to eat while it is still alive first! Hire a scooter here if you want to get around (or get lost as I did!). Joe's Bar with its live music is the place to hang out. My small resort was just great.
I had a beach front room (actually a separate bungalow) with a great breakfast all for about $55 per night!  The other guests were interesting too – and because of its small size everyone was friendly soon enough including good-looking young Russians with perfect English. Wealthy Vietnamese crowded the resort out at the weekend to add to the cosmopolitan mix of the place. Even a few New Zealanders! One came here 10 years ago and never left! He opened a wine bar over the road and, "started to live!" I suspect the beauty working with him had also been a factor!
Article & photo | Richard Todd.