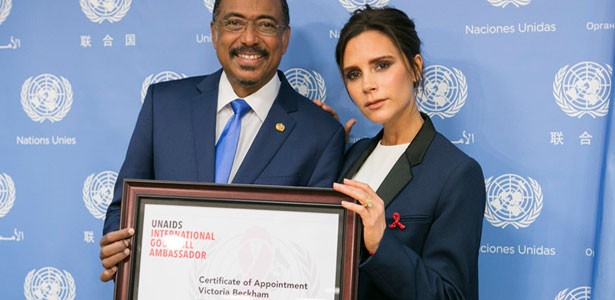 Former Spice Girl Victoria Beckham has been appointed as a UNAIDS International Goodwill Ambassador.
The pop star turned fashion designer skipped the opening of her new London store to instead talk at a press conference held at the United Nations headquarters in New York city last week. Beckham who claims to have had a, "life changing experience," whilst visiting an HIV clinic in South Africa, told reporters,

"This is the beginning of an important journey for me. As a woman and a mother I have a responsibility to support other women," said Beckham.
"I am proud and honoured to be working with UNAIDS in this new role to help to raise resources and awareness to support and empower women and children affected by HIV."
The stick-thin mother of four continued, "It's taken me getting to 40 years old to realize I have a responsibility as a woman, as a mother, I have a voice that people will listen to."
In August (2014) beckham sold off 6oo items from bags, shoes and evening dresses to garments from her Spice Girl days in an oline sale to raise funds for African organisation mother2mother, an organisation that trains and employs mothers living with HIV to mentor other HIV-positive mothers in their community. 
Sub-Saharan Africa is still the region hardest hit by HIV. In 2013 a reported 24.7 million of it's inhabitants were HIV-positive.
Article | gayexpress.
Photo |  Michel Sidibé, Executive Director of UNAIDS (left) and new International Goodwill Ambassador, British fashion designer & former Spice Girl, Victoria Beckham