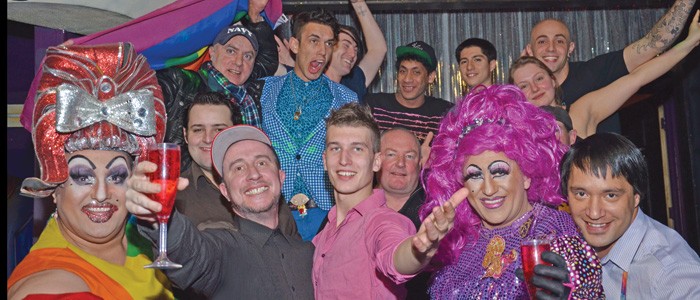 In it's nine years, Family Bar has remained the most dominant feature of the Auckland gay scene. express asks it's owner and his staff about the key to its success.
"Let everyone in. Mix it up. Make everyone feel welcome!" Says owner-operator Wayne Clark about Family's mantra, comparing the venue to Sydney's legendary Stonewall.
For years prior to Family's arrival Auckland's gay scene had struggled to sustain a large commercial gay bar for more than a couple of years with the popularity of venues like G.A.Y., Flesh and Hydrant fading when new alternatives appeared.
"We've seen roughly 15 gay bars open in the nine years and Family is still standing strong," says the club's artistic director Miss Ribena. She feels Family's success is in-part because they moved with the times. "The gay bars and clubs used to all be aimed at very European gay men." She says, pointing to Family's multi-cultural crowd. "The ethnic diversity of Auckland's gay scene has changed and everyone feels welcome here."
Clark agrees believing his inclusive venue also caters for multi-sexualities. "It has merged with the straight scene," he tells us, "but they stay connected with the community by supporting events all over the country."
"The Family brand is everywhere," adds Ribena. "From Dunedin Pride to organising free buses for The Big Gay Out." She also confirms Family, "will have a strong involvement in next year's Auckland Pride Festival."
A number of Family's staff have remained with the venue throughout the years. "DJ Wanda is still packing out the downstairs dance floor," Clark highlights. "Most of the staff that leave here come back," says jovial barman Aaron. "I went and worked for a couple of straight bars at one point, but they were so boring by comparison!"
Part of Family's pulling power is there is rarely a dull moment. "It thrives on drama. It's all part of the atmosphere," laughs Clark, adding, "I'm always changing it." His next refurbishment will see a garden bar installed at the back of the venue. 
Miss Ribena feels at Family, the crowd receive what they want. "Commercial music and camp drag spots!" Clark agrees. "It's the mainstream bars all over the world that get the most people."
Family is certainly not the only jewel in our scene's crown. Men's bar Urge is a K Road institution that has spent seventeen years on the strip. Ponsonby Road's Poof Bar has made more headlines this year than any other in the country and nightclub Legend is enticing acts to perform from all over the world. 
Aren't we lucky! z
Article | Oliver Hall.