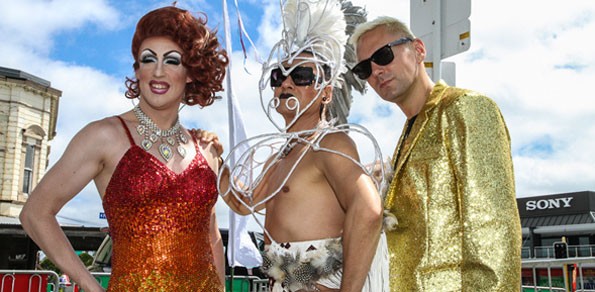 He tātai whetū ki te rangi, ko te ira tangata ki te whenua. The stars come out to play at the Auckland Pride Parade!
With over 45 entries and floats expected, the Auckland Pride Parade 2015 is the main event and the divine spectacle of the Auckland Pride Festival, celebrating our wonderously diverse Rainbow Community, here in Aotearoa New Zealand.
The theme for the Auckland Pride Parade 2015 is Gods and Monsters!
This is your invitation to release the beauty, or the beast, within. Whether you're marching down Ponsonby Road in the parade procession, feasting your eyes from your favourite vantage point, dancing and prancing with the nymphs and satyrs, cheering on your followers from the back of a float, or just checking out the heavenly bodies. The Auckland Pride Parade is a time for revelation and celebration!
Deities and mythical creatures tower over humanity. They are central to our story-telling and the great presence in our arts and culture. From the all-powerful beings who cover our nights with stars, to Māori taniwha and Chinese dragons, their magical force remains potent in all our lives.
Ancient secrets live on in present day worlds. New Zealand has become a melting pot of cultures and peoples, each with their own gods and monsters, radiant divinities and cult beasts, saints and sinners, icons and pariahs, whose sexuality embraces every possible variation.
The Greek male gods, like muscled Zeus and blond Apollo, often lusted for young men and whisked them off to the sky on eagle's wings. The Australian Aboriginal rainbow serpent, Ungud, was transgendered. In Hawaii, Wahineomo was in passionate relationships with two other goddesses, Hi'iaka and Hopoe. For the Japanese, same-sex male love was introduced to the world by the god-lovers Shinu no Hafuri and Ama no Hafuri, who could not endure separation.
All of these beings of love and light, and our most delicious creatures of the night, will congregate together for a parade procession down Ponsonby Road on Saturday 21 February, commencing at the later time of 7.30pm.
Come and join them in that magical summer twilight hour, when the inner self is released from the constraints of sunlight, when sexuality finds itself free in the shadows, when old tales come leaping into vivid life, and when every transformation is possible!
Article | gayexpress