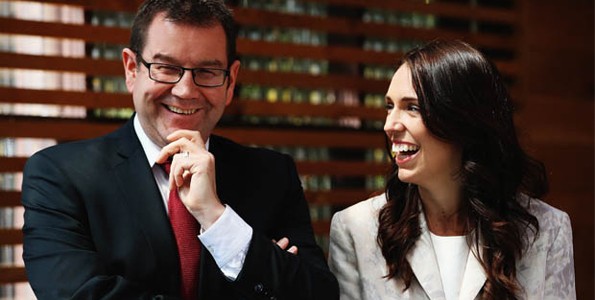 Grant Robertson launched his bid for the Labour leadership at the Kings Arms in Auckland yesterday, announcing Auckland Central List MP Jacinda Ardern as his running mate. Gay Express magazine's Levi Joule with this interview.
Who are your political heroes?
David Lange was a big inspiration. There was of course things that the fourth Labour government were doing which I thought were wrong, but I still thought that David Lange was a truly inspiring political figure for me. Partly because he made politics very real to people and that they connected to him. The more I learned about Labour party history and Labour party leaders, there were other political figures which began to excite me. That included Norman Kirk, Michael Joseph Savage, and one of my predecessors, here in Wellington Central, Peter Fraser and the amazing work that he did in education. And then I got to work with Helen Clark and she remains a person who I regard as a real inspiration too.
What is your vision for the Labour party and the country?
I think for the Labour party it is that we are truly part of the communities that we want to serve. We're not just showing up at election time and asking for a vote, but that we are there in the communities campaigning on issues that reflect our values. I want the Labour party to lead on the issues of the future and I think that is something we haven't done enough on. So on issues such as climate and change and the changing nature of work. We are moving into an era where technology is changing the working experience of working people. We need to be ahead of that and the way that the environment supports our economy. The growing gap between the rich and the poor, we need to have a strategy with how to deal with that. I want Labour to be a party that is part of our communities and is looking to the future. In terms of New Zealand, my vision is for a country where we provide the richest possible opportunities to all our people. And to do that, by supporting the hopes and aspirations of individuals to achieve their potential. That's not about a government telling people what to do; it's about being there alongside them.
Following on from that, do you think in recent times, Labour has fallen into the trap of telling New Zealander's what to do?
 I think that is the perception and I don't think we can deny that perception. We have to acknowledge that we have lost a connection with a lot of New Zealanders. Now there is no one reason for that, like I said at the launch yesterday, I think people struggle to grasp what Labour is. For me, it is about using our set our values to show that we are on the side New Zealanders, that we are there for everybody, not just a select group and that's really important that people see all that about Labour and that they are inspired by Labour and our vision and not be awkward about the way we present ourselves.
Some in the media has raised the issue of your sexuality, how do you respond to that?
Look, I am who I am. New Zealanders, I think should be proud of the advancements as a country which we have made in human rights issues and I believe that New Zealanders are fair minded people and they want somebody to lead the Labour party who will stand up for all of our values. I didn't get involved in the Labour party because I am gay; I got involved in the Labour party because of the values that Labour stands for. Being gay is a part of who I am, but it is not the determining factor in whether I will be good in doing the job as leader. I genuinely believe that New Zealanders will judge me and in general judge people on their character and on their ability to do the job and I think that I can do this job for Labour.
 Outside of the media, do you think political opponents have made an issue of your sexuality for their own gain?
 I don't know about that, I think that obviously for some people, this is an issue and people have all sorts of different beliefs and I respect those beliefs. But I think that overall New Zealanders are better than judging people of their sexuality and will instead judge a person on their ability to do a job. I get that having a leader of the Labour party who is gay will be different than in the past. But my commitment is that I am here for Labour's values and that I will act on behalf of all people who support the Labour party.
How important is the LGBT community to Labour?
It's been a community that has strongly supported Labour in the past and that is important because we have always stood by the LGBT community and that's because of our values and that is because we believe in equality and fairness. My commitment to the LGBT community and to others is that I will stand up for those values of fairness and equality wherever I am.
 Article | Levi Joule. Photo | Getty images