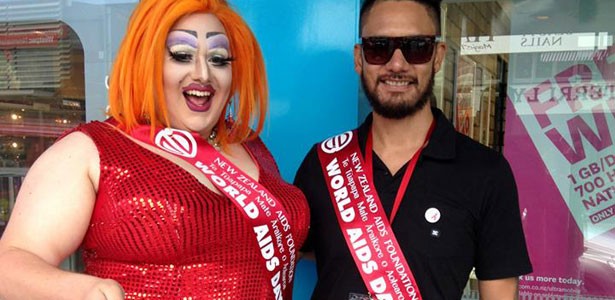 World AIDS Day is held on 1 December each year as an opportunity for people worldwide to unite in the fight against HIV, show their support for people living with HIV and to commemorate people who have died.
World AIDS Day was the first ever global health day and the first one was held in 1988.
Donating money is just one way to show support on World AIDS Day. But in order to collect donations, the New Zealand AIDS Foundation is looking for volunteers. You can get involved with the World AIDS Day street collection on Friday 28th November by donating an hour or two of your time.
Help NZAF support people living with HIV their whanau, family and friends.  We need volunteer collectors in major centres across the country — in Auckland, Hamilton, Wellington and Christchurch.
Make a difference and show your support this World AIDS Day. Sign up as a volunteer here!
Article | gayexpress. Photo | Miss Kita Mean and NZAF's Ricky Te Akau collection last year in new market.