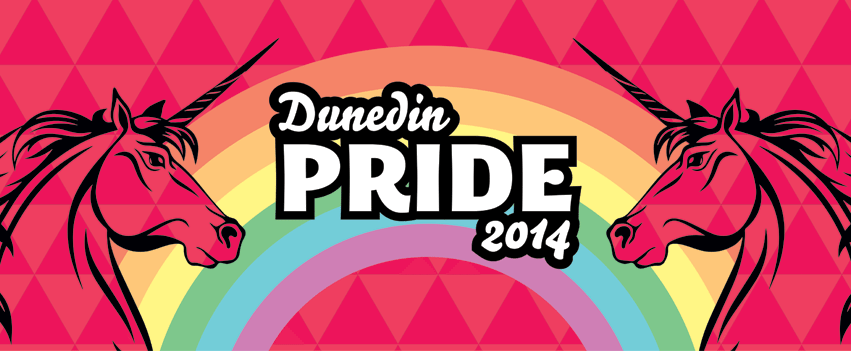 The Dunedin Pride Collective are gearing up for Dunedin Pride 2014 with four exciting events.
Dunedin Pride is in its second year and is run by and for the GLBT community, their friend's, families and allies. We seek to raise the visibility and understanding of sexuality and gender diversity within Dunedin, and the wider region, by organising a set of fun, creative, and informative public events.
Celebrate: An Art Exhibition will launch Dunedin Pride 2014. The exhibition opens on Tuesday 11th November at 6.00pm in the Pioneer Women's Hall, Moray Place. Celebrate will include live music, poetry and dance performances. The combination of visual and performance artists is "not only representative of diversity in the queer community but also highlights the inclusive nature of Pride2014" states Dr Lee Smith the exhibition organiser. Celebrate will run the entire festival with viewings available Wednesday – Friday between 11-2 and 4-6 and Saturday 12 – 4 during Camp Carnival
Friday 14 November sees a public event to launch the Dunedin Diversity Strategy. Neill Ballantyne who is organising the launch said, "This event is the result of a consultative hui we held last year which identified the needs of Queer* people in Dunedin. The strategy sets a framework for creating the most inclusive and affirming city in New Zealand." The strategy launch will take place at 5.15pm in the Logan Room at the Stadium.
Camp Carnival in the Octagon on Saturday 15 November (rain date: Sunday 16 November) is set to be a colourful festival of food, fun and information. There will be a range of information stalls from local groups and organizations that support the Queer* community. Keep your belly full with delicious food from local food vendors and let your children go wild at our kid's zone; then sit back and enjoy some live music, and dance performances. The featuring artists include: Iron Mammoth, Tahu and the Takahes, Little Smith Band, The High Twitch Athletic Club, RASA Dance Crews, LiDaH Dance Company and Some Other Creature.
The final event, Fruity Fever After Party, will be held at Fever Club on Saturday night, featuring a sparkly array of music and performances from Little Miss Cinnamon, MANTHYNG, DJ Stevolicious, and GASP! Dance Collective. The Dunedin Pride Collective are planning for another sell out event after its success in 2013. Tickets cost $10 (booking fee not included) from dashtickets.co.nz and by typing Fruity Fever in the search bar (door sales will be available at $12).
Search Dunedin Pride on Facebook for further updates.