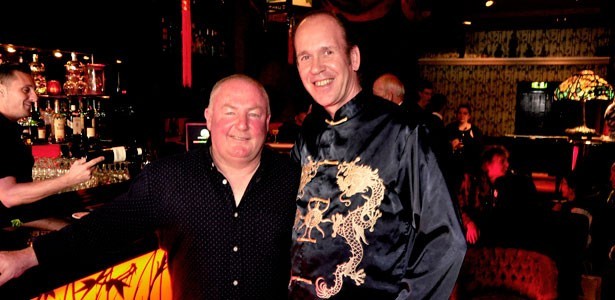 Ponsonby Road's iconic Shanghai Lils, the classy and opulent establishment has recently booked three of Auckland's top musicians The Williamsburg Trio to play live jazz / latin / soul / blues every Thursday evening from 7.30pm.
I made an appearance last week, and ended up staying until closing – the venue was packed, people were dancing and the lively spirit was great for a mid-week night out. The Williamsburg Trio features Maggie Gould (Vocals), Lance Su'a (Guitar) and Miguel Fuentes (Percussion) who all come from varied, impressive backgrounds.
Vocalist Maggie Gould started out her career as a photojournalist, but always had a love of musical theatre performing. She has photographed musicians such as Eric Clapton, Johnny Cash, Ray Charles, Nina Simone, Oscar Peterson, toured with Paul McCartney and B.B. King (to humbly name a few!) – in fact, earlier this year Maggie performed at B.B. King's club in Manhattan, NYC that she says was a career highlight. Maggie has also performed in establishments round New Zealand, and festivals – from Tauranga Jazz Festival to Samoa Jazz Festival. Frequent travel has also lead Maggie to perform as a guest artist at Rueben's hotel in London, Hotel Daneli in Venice and Montery Jazz Festival in the States. Her voice sounds similar to the jazz icons Julie London and Ella Fitzgerald – light, lyrical and elegant. Her version of Cry me a river really uses her storytelling as a way to move the audience, so make sure to request it!
To see some of Maggie's photography, head along to her latest exhibition at the Antoinette Godkin Gallery in York Street, Parnell.
Lance Su'a musician and recording producer has been performing gigs since he was 13 years old, from which he has gone on to lead an exciting career with many music icons including Sir Howard Morrison, James Morrison, Hayley Westenra, and with the NZSO. Lance was a regular session guitarist on Dancing with the Stars and has performed overseas from London to New York to China. Lance's style is George Benson meets Wes Montgomery – a fusion with his own distinct sound.
Miguel Fuentes is a dynamic, energetic and absolutely mesmerizing performer. His Puerto Rican roots are mixed with his unique style, and I didn't spot one audience member who wasn't tapping their toes! Miguel has performed around the world with Patti LaBelle and Grover Washington Jnr and is one of our most talented and experienced percussionists New Zealand is lucky to have.
This mid-week treat goes from 7.30pm Thursday nights and entry is free.
Article | Olivia Round
Olivia Round is a photographer, journalist, model and aspiring television host.
Being one of the youngest photojournalists to shoot New Zealand Fashion Week from age 16, Olivia was then invited to cover the Annah Sui & Milly NY shows at New York Fashion Week in 2013. Working along side Jessica Stein and Chiara Ferragni sparked a love of blogging her personal style and inspiration, as well as travel adventures.
Olivia has photographed and interviewed the likes of Bill Cunningham, Cara Delevingne, Karlie Kloss, Grace Coddington and Andre Leon Talley as well as styled and shot many photo-shoots, showcasing the talent of kiwi designers.
Having the ability to work both in front of a camera and behind gives Olivia a unique appreciation for the contrasting professions.
Olivia's grown up in the photography industry going on shoots with her mother from an early age and spending time in the newsroom with her picture editor father. Whilst being mainly self-taught in photography, Olivia also studied TV Hosting with Patricia Stark in New York as well as Acting for Screen at New York Film Academy. Olivia's currently in the process of completing a Bachelor of Communications at AUT University.