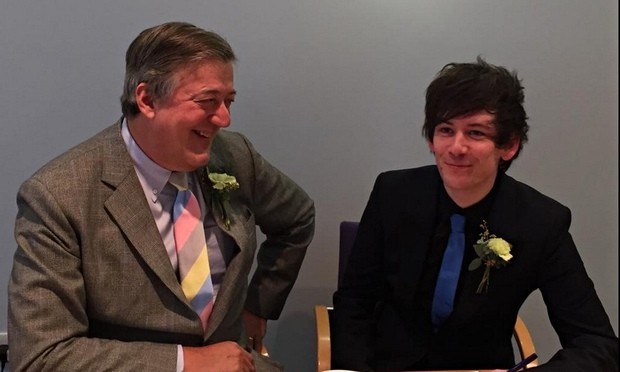 Stephen Fry has officially married his partner Elliot Spencer two weeks after revealing the couple planned to wed.
Stephen Fry, 57, has married his partner Elliot Spencer, 27, at a register office in Dereham, Norfolk.
The information was announced by Fry himself as the actor and presenter posted a picture on Twitter of him and partner, Spencer signing a marriage register.
Fry later joked that the couple's vows had been witnessed by an Oscar Wilde doll. "Oh and @ElliotGSpencer and I had our vows witnessed by a mini Oscar Wilde. Because one should," he said.
Fry had earlier hinted that the wedding would take place by tweeting that he would be attending a banquet before attending a football match. "Gulp! @Ronnieo147 v @nr147 this afternoon @BBCSnooker. A banquet. And then @NorwichCityFC v @CardiffCityFC – good things… #BBCSnooker."\
 Article | Levi Joule.