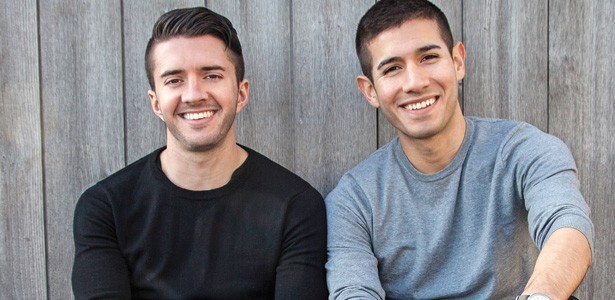 In an express exclusive, our favourite Olympian spills all, on love at first 'Instagram' sight and their plans for the big day!
Now based in New York, Blake Skjellerup returned to Christchurch over the festive season to introduce his fiancé Saul Carrasco to his family and home country for the first time.
The two have enjoyed a whirlwind romance since meeting face to face in New York in January last year. "We had met online four months before that, through Instagram," chuckles Blake who explains, he was in New York shooting the documentary To Russia With Love, about gay Olympians who were affected by the Sochi Winter Olympics.
For their first date Saul took Blake to the restaurant Cafeteria, made famous by Sex & The City and introduced him to his now favourite dish Chicken and Waffles. Blake says they "had a good connection," and that he immediately knew Saul was the one.
The following month Blake found out he had missed out on qualifying for the Olympics by just one place and decided to leave his Calgary-based training camp and move to New York to be with Saul.
He denies that the anti-gay Russian propaganda tarnished his Olympic training, stating, "It was more of a motivation than a distraction… I hope this documentary puts the focus back on the lives of GLBT Russians. Since the Olympics finished it feels like a lot of people have forgotten about them."
Blake says his Olympic dream is 'most likely' over. The funding support he receives as a speed skater only covers about a twentieth of what it costs him to train overseas, as expert training does not exist here. As for what he'll do instead, he tells us, "When I figure out what it is I want to put my focus and energy into – I'll be excited."
For now he has the wedding to focus on, and reveals they will marry in Hawaii. "My one stipulation is if it's not on a beach, then it needs to be very near one. I want to be close to the Ocean."
The happy couple have now returned to New York. But, Blake confides, "part of the reason for this holiday [back to NZ] was so Saul can see how awesome it is to live over here!"
Article | Oliver Hall. 
Photos | Erik Carter for express.