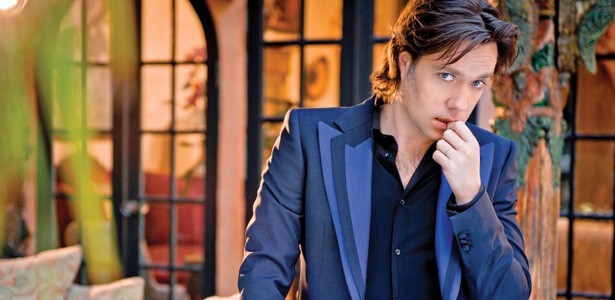 For the first time in seven years Rufus Wainwright will return to NZ for Womad festival. To promote his appearance he scheduled, then no-showed two interviews with express and has promised a third after we go to print and will be published on www.gayexpress.co.nz. Oliver Hall looks back over his lively career.
Like many great musicians Rufus Wainwright's personal life is as interesting as his professional music. The son of folk singers Kate McGarrigle and Loudon Wainwright, he was playing piano by the age of six and started touring with the family band at the age of 13.
By 14 Wainwright had realized he was gay. On a trip to London, he snuck into a bar and was picked up. Like many victims he initially denied being raped, but by the early 2000's openly talked about the assault in interviews, stating: "I thought it was going to be a romantic walk, but he raped me and robbed me afterwards… AIDS was at its height and you were told that this kind of contact could kill you. So I was just put off sex. I didn't sleep with anyone again until I was 21. It took that long to recover."
In 1998, Rufus delivered his self-titled debut album to critical acclaim and was awarded Best New Artist by Rolling Stone. While recording and promoting his second album Poses, Wainwright fell into a tail-spin of crystal meth addiction. Things got so bad he has claimed he temporarily lost his vision and barely even remembers his cameo on Absolutely Fabulous.
Rehab and recording the therapeutic Want albums brought him back from the depths. He followed with his most successful album Release The Stars and toured internationally including NZ.
Exploring his diversity he performed a series of concerts dedicated to Judy Garland's Carnegie Hall album (earning him a Grammy nomination) and composed his first Opera: Prima Donna.
In 2010, he got engaged to partner (German art administrator) Jorn Weisbrodt. Had a baby girl with Leonard Cohen's daughter Lorca a year later and married Jorn in 2012.
"I wasn't a huge gay marriage supporter before I met Jorn because I love the whole old-school promiscuous Oscar Wilde freak show of what 'being gay' once was. But since meeting Jorn that all changed," he stated.
Next month the man that Elton John has labeled, 'the best songwriter around' will return to our shores at Womad to perform a Greatest Hits set list. The pain and joy of his rollercoaster life should be audible in every note of his tenor voice.
Rufus will play Womad from
13 -15 March. Tickets
www.womad.co.nz.
Article | Oliver Hall.
Photo | Barry J. Holmes.