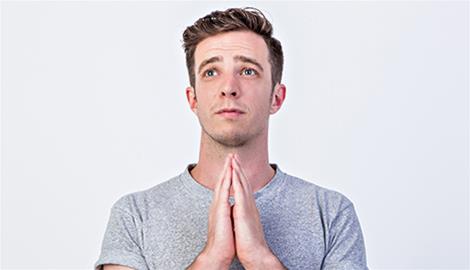 We get to know the community comedians who'll be splitting some sides at the up and coming International Comedy Festival. Today it's buff comedic hottie Eli Matthewson!
What's the funniest line you've ever heard?
I read this on twitter today, apparently from a school student's poem: "Any machine can be a smoke machine if you use it wrong enough"
If you had to hook up with just one other comedian at this year's festival who would it be and why?
Noel Fielding. I've got to admit, that answer came pretty easy. Sorry, other comedians!
Please tell us a bit about your comedy festival show? 
My Comedy Festival show is called "Faith". It's about growing up religious and what happens when you don't believe anymore. Once you don't have faith in god what can you have faith in anymore – can we even have faith in Beyonce post the 'elevator incident'? There's also jokes about Grindr, Kebabs, my eighth Subcard anniversary and so much more!
Why should every express reader attend your show?
I have a theory about why god made gay people that I think could change the world. But I'm only telling it to people who buy tickets to my show cause I'm a big tease.
What's the dirtiest joke in your show?
The filthiest joke in the show right now is about holding hands. But don't worry, it's dirty 😉
If you had a second anus what would you do with it?
I'd put my keys in a little pouch and keep them in there, cause I lose them at least once a day. What a question!
So you're having a dinner party and you can invite 5 GLBT's living or dead – who do you invite and why?
James Dean, Marlon Brando, Laverne Cox, Alexander the Great and Portia De Rossi.
What would you serve?
Look, I am a terrible cook. I'd order everyone TV dinners from Ripe and we'd all watch X Factor. Sad but very true.
Please complete the sentence: I will die happy if…
I never get another letter from the IRD again.
What three things must every one reading this article do before the end of the year?
Get the feijoa bacon for brunch at Orphan's Kitchen
Buy my friend Priya (Trip Pony)'s EP on bandcamp http://trippony.bandcamp.com/
Come see my show! And lots of shows at the Festival, it's gonna be mean.
Eli Matthewson performs in FAITH at Auckland's Basement Theatre (Tue 12 – Sat 16 May) and Wellington's Bats Theatre (Wed 29 April – Sat 2 May) as part of the 2015 NZ International Comedy Festival. Visit www.comedyfestival.co.nz for more info.