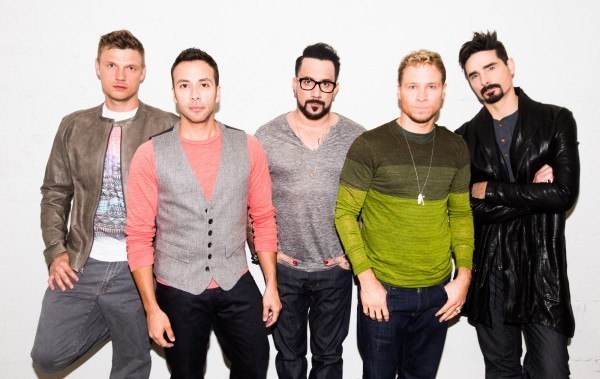 Oliver Hall immerses himself in nineties nostalgia as the world's biggest selling boy band take over Auckland's Vector Arena.
The minute it was announced that the late nineties pop juggernaut the Backstreet Boys were including Auckland in their tour schedule, I knew I had to go. It's interesting how the music you are listening to when you first come out stays with you and always has a loyal place in your heart. For me it was the Backstreet Boys, Spice Girls and Britney leading the pop charge of my coming out era. I remember my best girl friend at the time giving me BSB's Millennium album for my 17th birthday and writing in my card, "here's a bunch of lush lads for you to drool over." Only problem was she had given it to me at the beginning of English class and it ended up getting passed around. I will never forget her and I staring wide eyed at each other as the card made it into the hands of people I mostly hadn't come out too yet. Of course, they had all already guessed and didn't batter an eyelid, but that didn't diminish from the mortifying moment.
Obviously in the 15 years that have followed I have evolved and grown a lot. The same cannot be said for the product the Backstreet Boys were presenting to their audience at the Vector Arena last night. The In A World Like This tour makes little attempt to reinvent the Backstreet Boys in the way their contemporaries like Take That and Justin Timberlake have. Witnessing this as their concert begins – it feels like a risky decision. BSB have chosen to appeal to fans desire for nostalgia as opposed to presenting themselves as an act that can move with the times. Fair enough for a greatest hits reunion tour, but it feels like a mixed message when you consider a) this tour is promoting their 2013 album, b) their Show 'Em What Your Made Of documentary (released earlier this year) which charts their rise, fall and hopes to once again be relevant, and c) their plans to return to studio and record another album when this tour is done.
The show begins with a bang, as the boys rock in with The Call and Don't Want You Back and quickly highlights how they can swoop effortlessly from upbeat to ballads (All I Have To Give, As Long As You Love Me), because unlike other boy bands they can do both really well. Their staging is typical nineties, anything that isn't a LCD display is plain black, and brings back memories of the MTV VMA performances from the height of their career. There are no dancers, but this doesn't matter as the boys are more than capable to carrying the effervescent choreography by them selves.
My major gripe is that their band is not on stage. Their live backing was present in a pit stage left, but at this mature point in their careers, with a catalogue that boasts plenty of drum heavy hits, this feels like a real mistake not to have the instrumentalists on stage with them. With the concert still in it's early stages, I feel bleak – in their first of four outfit changes – Nick looks out of shape (a contrast made more striking by the fact he still rocks his nineties blonde centre-parting hair style); camera close ups make Kevin look almost Michael Jackson frightening with a frail-looking paper-thin nose, and Brian's voice seems to crap-out a couple of times on their classic Millenium ballad, Show Me The Meaning of Being Lonely.
Perhaps it is the infectious nature of hearing 10,000 30 year-old women scream like they're 15, or the fact that in their 22 song set had a good 17 big hits that I remember every word too, but my scepticism subsides and I start to appreciate that the band are working hard to truly give what their fans what they want: a trip down memory lane.
The boys pull out the original choreography for the likes of I'll Never Break You Heart and We've Got It Going On, and their timing doesn't miss a beat. For the big sing-alongs (too many to name, but think Quit Playing Games, The One, More Than That, Shape Of My Heart and oh a little number called I Want It That Way) the boys extend the final choruses to really let their fans cherish the moment. I find myself struggling to remember a concert where the audience are being catered too in such a seemingly unselfish fashion. VIPs are lead on stage for an acoustic set, and are hugged, high-fived and kissed (!) by every member. The front row and the dance pit are also given plenty of chances for a grope as the boys regularly straddle the barriers.
With the exception of a few struggling notes from Brian, their live vocals sound strong, and the concert as a whole serves as a great reminder of how good their vocals all sound together. Moreover they can still hit the right notes while doing full-on dancing, something most modern artists (other than Beyonce) struggle to do. Performances of more recent singles like Incomplete and In A World Like This highlight that while their chart placements have diminished, the quality of their songs have not.
But at the heart of the spectacle is the boys themselves. Nick proves to be as charismatic as ever and leaves you feeling like the band simply couldn't function without him. As a kid my favourite was always Brian (even today he still gets the biggest screams) but after last night I've converted into an AJ man. The daddy of the group, his powerful deep voice is something to behold. Howie, meanwhile looks like he has defied aging over the last 15 years, but I have to admit I want to burn him alive when he changes the lyric of their biggest hit to "Cause I want it New Zealand's way"!! That's too much cheese, even for me.
Oh and Kevin… well, the band feels stronger with him than without him at least.
By the time they hit their two encores Backstreet's Back and Larger Than Life, the boys have truly proved they can still do everything, even playing their own instruments at points. With a big set of drums on stage, I reckon these closing numbers would look/sound even better, and perhaps with a show presentation more reminiscent to touring giant Pink, the boys could show everyone how relevant they can be and find a place back on the charts (not just in our nostalgic hearts).
Article | Oliver Hall.