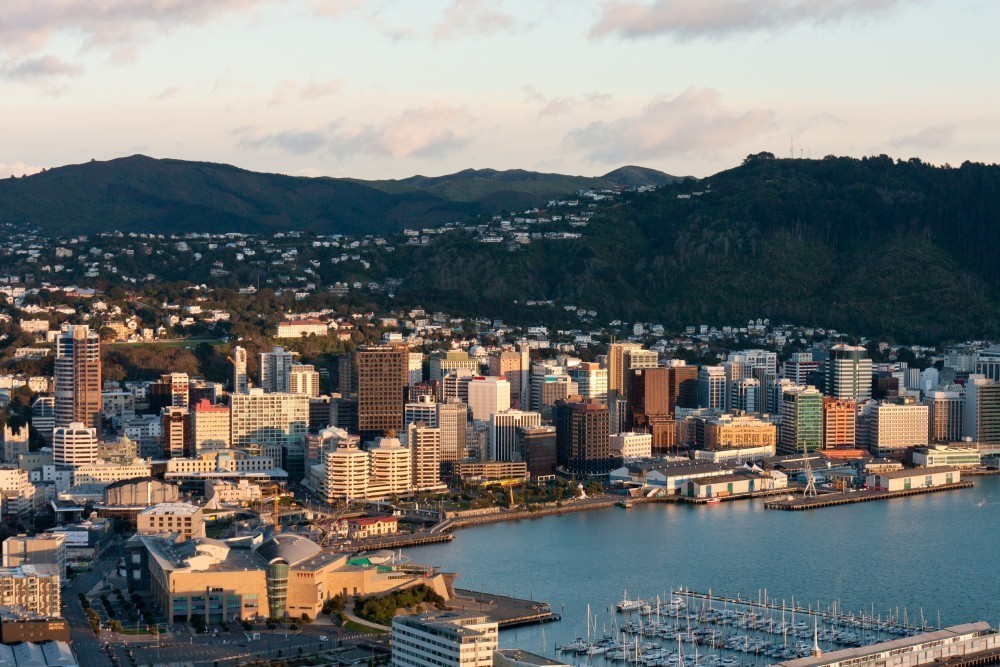 Express enlists a panel of the windy city's biggest personalities to bring the jewel's in our capital's crown.
Our Panel:
Chris is one third of NZ's most famous trouple! Together with partners Chris and Andy he runs Koromiko Homestay, an architectural curiosity perched on the hills of Highbury overlooking the harbour.
Jeff Montgomery wears two hats on his beautiful flame-haired head: one as the Registrar-General for Births, Deaths Marriages and Citizenships, the other as running Wellington City Cottages accommodation with husband Dean.
Rose Kynoch is Wellington's most gorgeous bartender and can be found pulling pints and shaking cocktails at Ivy Bar and cabaret.
Bernie Lee was recently crowned Mr Gay Wellington 2015. For more on his win see page —.
Scotty & Mal are legendary Wellington scene queens, and we are talking royalty! For decades the two have run bars and clubs on the Wellington gay scene including Cuba Street's fabulous S&Ms.
Peter Graczer is a former express columnist and current consultant at Sputnik, a boutique public relations agency located in the heart of Wellington's creative quarter.
LaQuisha Redfern is also an express alumni who currently fills her time blogging and tweeting from Outer Space.
 The best thing about living in Wellington:
 Chris and Rose both swing for the cities art and culture scene. "Wellington is the cultural heart of our country, there is always something going on, from the Fringe Festival to concerts, art instalments and street performers – and almost all of it comes from the locals," explains Rose.
Jeff and Bernie love the cities walkable nature, but Scotty & Mal, LaQuisha and Peter are all united in their belief that it is the people who make the place.
"It's full of smart people doing really interesting things. In what other city can you have dinner with foreign diplomats, go drinking with musicians and wake up next to a Minister? City fringe character villas are still affordable an we're the brunch capital of New Zealand. This is gay paradise," Peter concludes.
Your favourite Wellington restaurant:
Absolutely nobody could agree on this one. So here is a top ten list (in no particular order) compiled from their various answers.
1 – The Bresolin (278 Willis St) – outdoor/indoor dining perfect for group celebrations.
2 – Sweet Mother's Kitchen (5 Courtney Place) – too die for desserts.
3 – WBC (107 Victoria St) – sophisticated seafood.
4 – Portafino (33 Customhouse Quay) – refined waterfront Italian.
5 – Viva Mexico (210 Left Bank) – not a burrito in site; authentic Mexican!
6 – Capitol (10 Kent Terrace) – best brunch menu in town!
7 – Logan Brown (192 Cuba St) – a Wellington classic.
8 – El Matador (198 Cuba St) – tasty tapas to suit any budget.
9 – Catch Sushi (48 Courtenay Place) – fresh fish, crispy tempura, no wait!
10 – Burger Liquor (129 Willis St) – the city's best gourmet burgers.
Your favourite night out in Wellington?
Watching a show at Bats Theatre (1 Kent Terrace), topped the list for Chris, Rose and Scotty & Mal. Jeff suggested a movie at The Lighthouse followed by drinks at S&M's (176 Cuba St). This was echoed by Bernie who particularly enjoys S&M's Wednesday night Bingo. Peter swings for drinks at Ivy (49 Cuba St), followed by, "late night carbs at KC café (39A Courtenay Place) or a cocktail at The Library (53 Courtenay Place)." Meanwhile for tea-total LaQuisha it's a school night at Midnight Espresso (178 Cuba St), "sitting huddled up conspiratorially over some of the best counter food this city is dishing up."
Your favourite spot for coffee?
Midnight Espresso also features highly on our panel recommendations for coffee in the capital. Chris and Scotty and Mal select the legendary Cuba St icon which uses strong Havana beans. Jeff and Rose both opt for successful Wellington chain Mojos. Rose selects 18B Bond St as her favourite location, "It's a bit out of the way but that's part of what I like." Other recommendations are Dixon St's Memphis Belle and The Hangar, and Ghuznee St's Customs Brew Bar (serving Supreme) and Milk Crate on Dixon Street. While Bernie assures us The Preservatorium Café (39 Webb Street), "have the best mochas in town."
Your favourite Wellington walk?
Almost everyone finds the Waterfront hard to ignore. Scotty & Mal suggest, "Catch the cable car to the top and walk down through the Botanical Gardens, the rose gardens, through the old cemetery, past parliament and down along the waterfront."
For those keen to get out of the central city, Peter recommends, the coastal walk from Eastbourne to Pencarrow lighthouse. "Incredible on a fine day, and you can hire bikes if walking for three hours isn't your thing." LaQuisha too, recommends getting in the car first to experince a walk with amazing sites. "If you drive up to the wind turbine on the hills above Brooklyn, you get breathtaking views of Wellington all the way from the Hutt valley to the Cook Straight. From there, there is a lovely walk that is completely asphalted, so you'll be able to enjoy the natural environment without having to actually get involved with it. Perfect!"
Wellington's best place for 'people watching':
Unanimously Cuba street is selected. Express particularly likes Jeff's suggestion of taking it all in from the Ekim Burger van in the Abel Smith car park off, but for those feeling that's a bridge too far, we'll take Chris' suggestion of Fidels Café (234 Cuba St) as comfortable middle ground. LaQuisha feels the location all comes down to whom you want to see. "If it's power dressing government executives, than you can't got past Asotira (159 Lampton Quay). And for the creme-de-la-yoghurt of Wellington's creative set then get yourself to Prefab Café (14 Jessie St).
Your favourite Wellington shopping experience:
The weekend markets get rave reviews. Jeff likes the ethnic food options and live music at the Night Market (5-11pm every Friday and Saturday, 107 Cuba St), while Bernie opts for an early rise on Sunday mornings for the Victoria Street Farmer's Market, which starts at 4am!
For bargain hunters Rose raves about the capital's plethora of second-hand clothing and book stores. And for urban style seekers, Peter directs you to Good as Gold (120 Victoria St). "A one of a kind clothing shop with a collection of unique labels from all over the world."
Where to take visitors:
Chris takes guests to Zealandia (the Karori Wildlife Sanctuary) for a education in NZ's native bird life. Bernie wisks friends off to Petone in Lower Hutt, "where Jackson Street has many boutiques and great cafes overlooking the Wellington harbour." Both Scotty & Mal and Peter recommend a visit to The Spruce Goose in Lyall Bay (handy if you're coming from or going to the airport). Peter tells us the cafe has, "amazing views of the South Coast, even in the screaming wind and sideways rain.  And their Bloody Marys are strong enough to take the edge off the worst Sunday morning hangover!"
Wellington's best kept secret:
Everyone has their own theory when it comes to this. Chris swings for the gorgeous black sand beaches of Breakers Bay.
For Scotty & Mal it's the museum of Wellington City and Sea (Queens Wharf) thanks to it's, "great hologram display of the Maori history." Peter leans to the Salted Caramel Cookies from Leeds St Bakery (14 Leeds St) which he says are, "as addictive as crack and about as healthy too!" While LaQuisha can't go past the cheap parking on Kent and Cambrige Terraces, "$1.50 an hour with a 10 hour maximum." Who could resist?
Article | Oliver Hall.