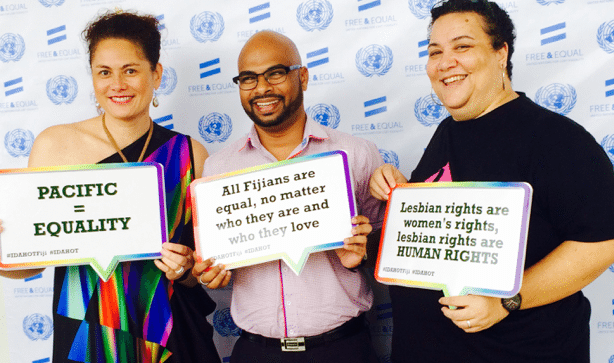 Louisa Wall has just returned from Fiji where she helped launch the 'Pacific UN Free and equal campaign.' express has an exclusive copy of the powerful speech she delivered.

The Manurewa MP and marriage equality champion has just returned from Fiji where she helped launch the Pacific UN Free & Equal campaign – a regional United Nations campaign to highlight sexual and gender diversity in the Pacific and promote respect for the rights of Pacific Islanders who are lesbian, gay, bisexual, transgender and intersex.
The campaign follows a  June 2015 report to the UN Human Rights Council, the UN High Commissioner for Human Rights which  noted that "While some progress has been made (since 2011), the overall picture remains one of continuing, pervasive, violent abuse, harassment and discrimination affecting GLBT and intersex persons in all regions." Responding to the need to address homophobic and transphobic attitudes through education, the Pacific UN Free & Equal campaign will challenge negative stereotypes of GLBT people and promote measures to "protect the human rights of all people, regardless of their sexual orientation and gender identity."
Below is Louisa Wall's speech in full:
We are mothers, fathers, sisters, brothers, uncles, aunties, nannies, koro, sons and daughters, siblings, parents, aiga, family and whanau, we share whakapapa and we are not criminals.
We are Ratana, Anglican, Methodist, Catholic, Presbyterian, Baptist, Mormon and advocates, community workers, nurses, doctors, lawyers, teachers and members of parliament to name a few of the other things that make us who we are and we are not criminals.
We are citizens of our respective countries and we are not criminals.
When did we become criminals? It came from English Law so in 1840 when NZ was colonised, male and male adult sexual relations became illegal in NZ. And it is this colonial history that needs to be repealed today so we can build a base of inclusiveness founded on the fundamental human rights principles of being born "Free and Equal" in dignity and rights.
On the 10 December 1948 the United Nations General Assembly adopted The Universal Declaration of Human Rights which promised a world in which everyone is born free and equal in dignity and rights – everyone is everyone regardless of your sex, marital status, religious belief, ethical belief, colour, race, ethnic or national origin, disability, age, political opinion, employment status, family status, sexual orientation and gender identity and expression and other identities depending on the country of your birth.
The then High Commissioner for Human Rights Navi Pillay at the global launch of the "Free and Equal" Campaign in July 2013 in Cape Town South Africa said "no exceptions, no one left behind". She noted that for many millions of LGBT people globally and for some of us here in the Pacific we are forced to confront hatred, intolerance, violence and discrimination on a daily basis. What does this look like and who is perpetrating this violence and discrimination? I thank all of us in this room today and our communities and allies across the Pacific who are here in thought and spirit – our collective goal is to understand this violence and discrimination, to know where it comes from, who it comes from and why so we can stop it, so our tamariki me mokopuna, our children and grandchildren to come, do not have to live with this violence and discrimination one more day longer than is necessary.
What is it to be –
Free – to be able to act as one wishes; not under the control of another.
Equal – to live in the state of being equal, especially in status, rights, or opportunities.
To live in –
Dignity – the state or quality of being worthy of honour or respect.
Rights – a moral or legal entitlement to have or do something.
What are these rights? I think they are simple. They are the rights of equal citizens across our respective democracies, across our respective Pacific nations, across Te Moana Nui A Kiwa.
As equal citizens we are not criminals and so the first step is collective law reform. What does this mean? That our governments, our political leaders will do as Palau did last year which was to address the recommendation in their Universal Periodic Review to ensure they had inclusive laws on consensual adult sexual relationships. Its that easy, it's that simple. The state should not discriminate against any of its citizens.
Next year in NZ we will celebrate 30 years since our law reform to ensure consensual sexual relationships – that process of change was started in 1974, and 1979 and 1980 by politicians but they did not have the support from the gay activist community who wanted the same age of consent – 16 not 21 years of age.
So when we achieved law reform in 1986 it was because Parliament and the People, the many communities of interest who believe in fundamental human rights, were working together to achieve change.
We need to talk about the relevance of what the "Free and Equal" campaign is attempting to achieve. And we need champions from across society: from religion, community, NGO and social justice advocates, politics and local and regional human rights institutions.
What is the role of the Pacific Islands Forum? It was founded in 1971 to support member governments to enhance the economic and social wellbeing of our peoples by fostering cooperation between governments and international agencies. PIF would be a natural vehicle in the Pacific to lead the human rights for everyone – no exceptions, no one left behind agenda for change and to support us, in our communities who are dedicated to achieving this change too.
No reira, tena koutou, tena koutou, tena koutou katoa.
Vinaka vaka levu.
 Speech | Louisa Wall