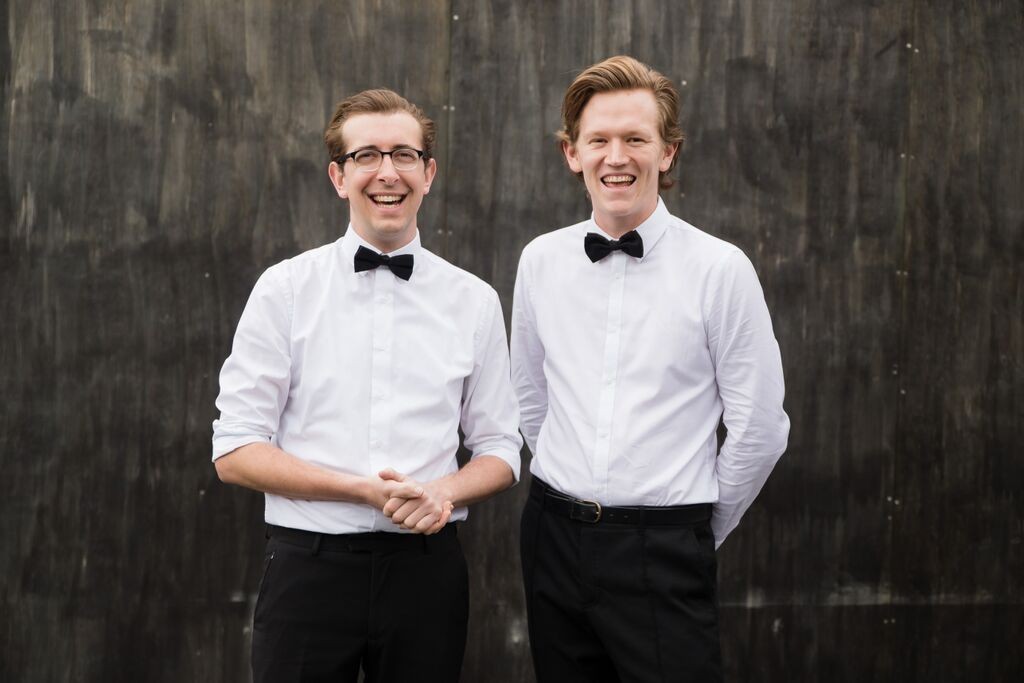 HUDSON & HALLS LIVE! is Silo Theatre's final show for the year, and is set to be a stunner.
Premiering at Auckland Live's Herald Theatre from November 5 – December 5, HUDSON & HALLS LIVE! offers a glimpse into the remarkable journey and terrible behaviour of two incredible personalities that were New Zealand's original great gay love story.
Silo believes that the remarkable story of the charismatic duo that was Peter Hudson and David Halls is long overdue to be told. Working with theatrical daredevil director and co-creator Kip Chapman (Apollo 13: Mission Control), this is a show that gives audiences a truly immersive experience. Arriving at the Herald Theatre, audience are "cast" as the live TV studio audience for what is the couple's first live broadcast – a Christmas special with all the trimmings.
Express caught up with Kip Chapman to chat about the show:
Why Hudson & Halls?
Two reasons. Firstly and most importantly it's an amazing love story. So in terms of telling heartfelt stories it ticks all the boxes. Their characters were wild, authentic, complicated and generous which makes great theatre. Secondly, as a theatre maker I'm really interested in pushing form. The idea of being able to transform the Herald Theatre and make the audience part of the experience was a really interesting provocation.
Hudson & Halls has been described by Silo Theatre as NZ's original gay love story. By 1981 the show was regularly ranked in the week's five most highly-rated programmes in New Zealand and the duo won a Feltex Award for Best Entertainer of the Year. Why do you think they managed to be so embraced by middle class NZ?
New Zealanders had many different relationships with them. You can't put it down to one thing. They were just so different, fun and exciting. Some people watched it for the horror of it all. Some little old ladies saw them as two bachelors that would make their daughters fine husbands one day and about 26 people probably watched it for the cooking.
They were famous for their on-screen bickering and 'creative recipes' – has any of this made it into the play?
Hudson & Halls Live! follows the greatest night of TV that they've ever made in their entire lives. They start off by calming their nerves with champagne. Peter is desperate to nail the turkey. Like any best laid plans things start to unravel. David starts drinking more. Peter is of the vintage if you can't beat 'em join 'em. This is the Camp family Christmas where everything that could go wrong does go wrong.
What's so great about the characters is that they were genuinely funny and that really comes through on the screen. Actor Chris Parker is one of the finest improvisers in the country. His comedic skills are genuinely great. Todd who has been touring NZ with Daffodils is also a trained chef. Without the skills of both of these talented actors the show would be incredibly hard to perform.
Were Hudson & Halls talented cooks?
They were exceptional in their era. But what they were really amazing at was creating theatre about food. They didn't think that the world should be dull and bland – they were like every day is a party… drink the best wine you can and make the best food you can.
Who were some of their friends that helped with your research for writing this play?
The creation of this play was inspired by actress Rima Te Wiata who used to work with them. She was the worst waitress they'd ever had. She was so bad and they would scream at her from the kitchen. People absolutely loved it. Max Cryer also gave a great insight into their world and Tony Astle advised how they fitted into the high end restaurant scene in Auckland. We also spoke with many of their colleagues and associates.
You mention Hudson and Halls to children of the eighties and they are excited but what can young people expect to take away from the production?
Outside of the story will be a wild and really, really funny experience. I make theatre that I want to see and I see a lot of really boring theatre. This will not be that. We are going to transform the whole of the Herald Theatre including the foyer into a TV studio. It will be truly immersive. Come for the fun.
As we all know the couple's story ended tragically when Hudson died of cancer in 1992 and Halls, grief-stricken, committed suicide the following year. Does any of this more somber element make it into Hudson & Halls Live?
We could have told the story heaps of different ways. We decided to make it live, telling the story in real time. We therefore offer a 90 minute window into their lives. You will get a sense of what their entire relationship was like. I want audiences to ask… oh god why are they like this??
You yourself both work and live with your partner – how much (if any) of your own relationship feeds into the work?
My partner Todd and I aspire to be as fiery as those two. I'd like to have a slightly more Italian approach to our relationship. They really just loved one another. No matter whether they were trying to kill each other or flirt with each other – they were totally obsessed with one another. I'd love for our relationship to be that extraordinary… maybe… well certainly with a bit less branding.
Visit www.silotheatre.co.nz for tickets and more info
 Article | Ginger O'Neill Photos | Dan Liu