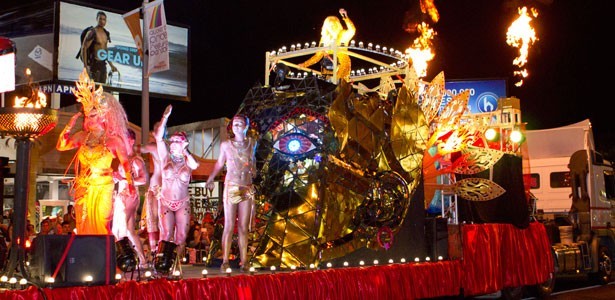 Auckland Pride Parade Pride returns to Ponsonby Road on Saturday 20 February with a new twist – a change in direction.
2016's parade will be going from Three Lamps, making its way to the end point in Western Park. Parade organisers say that heading North to South gives float participants a designated place to gather from 7pm to 10pm in Western Park.
Kicking off at a new time of 6pm, the parade takes place in the middle of a "Pride Day" with activities happening before the advance of the parade and a free gathering after the parade for all participants.
The theme for the 2016 Auckland Pride Parade is Stories, Myths & Legends, celebrating narratives and storytelling in all its forms, sharing contemporary experiences, tales, legends and historic milestones.
Newly appointed Auckland Pride Parade Producer, Nick Davion is originally from Brighton in the UK. He has a background in theatre and has worked in various roles in corporate and major events.
"I understand the potential of the Pride Parade/Festival from my home town where an estimated 200,000 celebrated 25 years of Pride in 2015. Auckland Pride is still young, but has enormous potential and I am working to make sure it represents the whole community and is uniquely Auckland" says Davion.
Auckland Pride Festival 2016 runs from Friday 5 February – Sunday 21 February 2016.