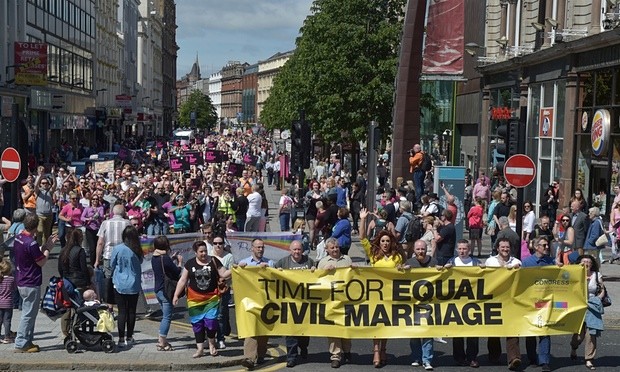 Northern Ireland's government has vetoed a motion to approve same sex marriage.
Northern Ireland ruling Democratic Unionist Party (DUP) has overruled a successful motion to legalise same sex marriage with a constitutional veto. The power-sharing assembly had voted to approve the motion by 53 votes to 52 The Guardian reports.
The veto was made using a "petition of concern" under which unionist and nationalist parties can claim that a bill has failed to command support on both sides of Northern Ireland's longstanding sectarian divide.
Under the petition, a vote can pass only if supported by 60 percent of members voting, including at least 40 percent of each of the nationalist and unionist members.
The motion which was supported by Sinn Fein and the Social Democratic and Labour Party was the fifth attempt to make marriage equality a reality in Northern Ireland.
Northern Ireland is the only part of Britain and Ireland where same sex marriage is not legal.
An Ipsos MORI survey in July found that 68 percent of adults in Northern Ireland were in favour of same-sex marriage, rising to 82 percent among 16- to 34-year-olds.
Article | Levi Joule.