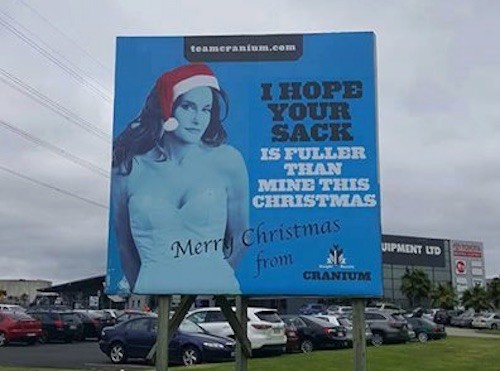 A billboard in Auckland, featuring Caitlyn Jenner will be removed after complaints that it was offensive to the Transgender community. 
The billboard featured the photo from Jenner's  Vanity Fair cover shoot wearing a Santa hat and the words; "I hope your sack is fuller than mine this Christmas. Merry Christmas from Cranium."
The billboard has been slammed by Rebecca Jones, the mother of a 9-year-old transgender boy, who says the billboard is transphobic. "I find this absolutely disgusting."
Jones told the NZ Herald that the director of the company seemed to initially not take a complaint made about the billboard seriously and was "quite insulting,"
Cranium director Phillip Garratt has indicated the billboard will now be taken down however. 
Garratt says there was no way he'd discriminate against anyone and that the words on the billboard were "referring to a santa sack" and nothing else.
A post on his company's Facebook page also issued an apology and indicated the billboard had been taken down.
"It was not our intention to offend any people in the community … Cait is more then [sic] welcome to stay at my house with my family anytime. I will have a wine or a beer with her quite happily and it would be an honour."