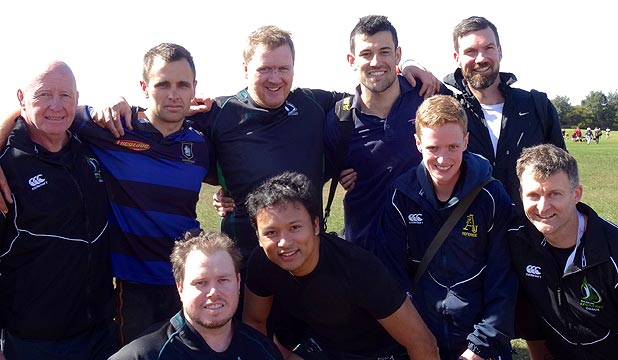 The New Zealand Falcons, New Zealand's only gay rugby side, is looking for an experienced coach to replace out-going coach Ray Pye upon his retirement. Falcons captain Jeremy Brankin spoke to express, admitting that team members were sad to see Ray decide "it was enough" after a stellar season in 2015. However, the Falcons retain a positive outlook and are confident a replacement will be found to fill Ray's large shoes.
The team was re-formed in 2013 to offer a supportive and inclusive rugby and social environment for predominantly gay men and has enjoyed success at a club rugby level and international competitions. The club has established trademark behaviours, expectations and is striving towards excellence as well as entrenching a culture of participation. Out-going coach Ray Pye commented in his 2015 coach's welcome that the New Zealand Falcons embody inclusiveness and acceptance. He says that "the game is for everyone" but the Falcons represent more than cohesive sporting prowess, and also "provide a platform for [everyone] to enjoy the thrills of the game and the wonderful social side of the sport" (NZ Falcons Webpage).
There is more to being a coach to the New Zealand Falcons than technical and tactical nous. The role demands the ability to be able to embrace and foster what is unique about the team – queer focus and inclusiveness. Falcons captain Jeremy Brankin comments that you do not have to be gay to coach this team, but you should share the aim of challenging stereotypes – both of gay men, and of rugby players. Although captain Jeremy Brankin comments that the response from New Zealanders has been positive, particularly since returning home with "some silverware" – the Trans-Tasmin competition prize, the Purchas Cup. However, Jeremy claims that homophobia is still a real problem in the hypermasculine environment of sport. The existence of the Falcons works to both combat this entrenched homophobia in New Zealand rugby, and support gay men in following their sporting dreams.
For further information or to express your interest, please contact:
Jeremy Brankin
Mobile | 022 0529 180
E-mail | nzfalcons@gmail.com