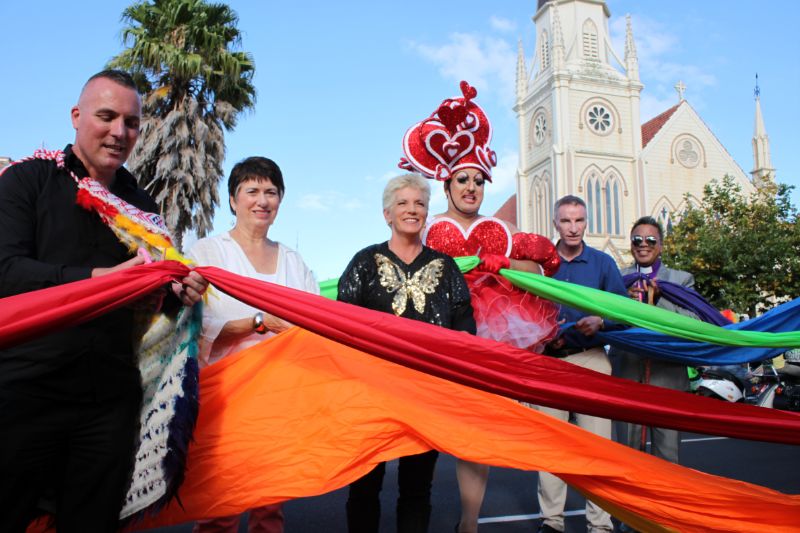 What an evening! Ponsonby Road was packed with colourful folk and bright, happy faces during the 2016 Auckland Pride Parade.
Vinnie Sykes, Fran Wilde, Daniel Nehemiah, Penny Hulse, Amanaki Prescott-Felatau and David Hindley all took to the street to set the parade in motion for another year. Excitement mounted as the seven-deep rainbow ribbon was cut and the parade began!
Miss Ribena stole the show with a dramatic speech to the crowd from the head of the Parade, thanking the six other ribbon cutters for their unique contributions to the rainbow community. Notable gratitude rightfully went to Fran Wilde, a long time advocate for GLBT rights and leader of the Homosexual Law Reform of the 80's.
She also made special mention of SPQR, once Ponsonby's quintessential GLBT eatery and still an important restaurant in the rainbow landscape. Ribena thanked everyone in the crowd for coming out to support the Parade and the community. 
According to Parade Parade director Nick Davion, "about sixty floats" made their way up Ponsonby Road from Three Lamps to Western Park. Some were modest but powerful, and others were flamboyantly extravagant with entourages to rival Hollywood A-listers! The Coke float was a marvel, boasting their own DJ and a veritable hoard of accompanying dancers. LYC drew attention with a massive rainbow flag attached by the collar to a gorgeous front man who rode atop of the float like a Roman gladiator.
No one could keep their eyes off the Proud To Play float as they meandered Ponsonby Road, tossing a rugby ball between them and sending heart melting smiles into the crowd. Body Positive's balloon clad group got up close and personal with spectators, playfully batting on-lookers with blown up rainbow balloons and garnering a lot of well deserved giggles. 
The Labour Party and the National Party were also out in force. The Green Party also made a modest appearance.
There are simply too many floats to recount, but  one thing is for sure: participants went all out for pride!
In spite of a small set back that saw protesters halt the parade for thirty minutes, the Parade went off with record crowds gathering from one end of the road to the other in support of the rainbow community.


90's girl band Truebliss performed for the duration of their ride, entertaining the GABA GlamStand which was jam-packed full of finely dressed rainbow royalty.
Setting a high standard for years to come, the 2016 Auckland Pride Parade is going to be a hard one to top.
Images | Amy Jane Bedwell