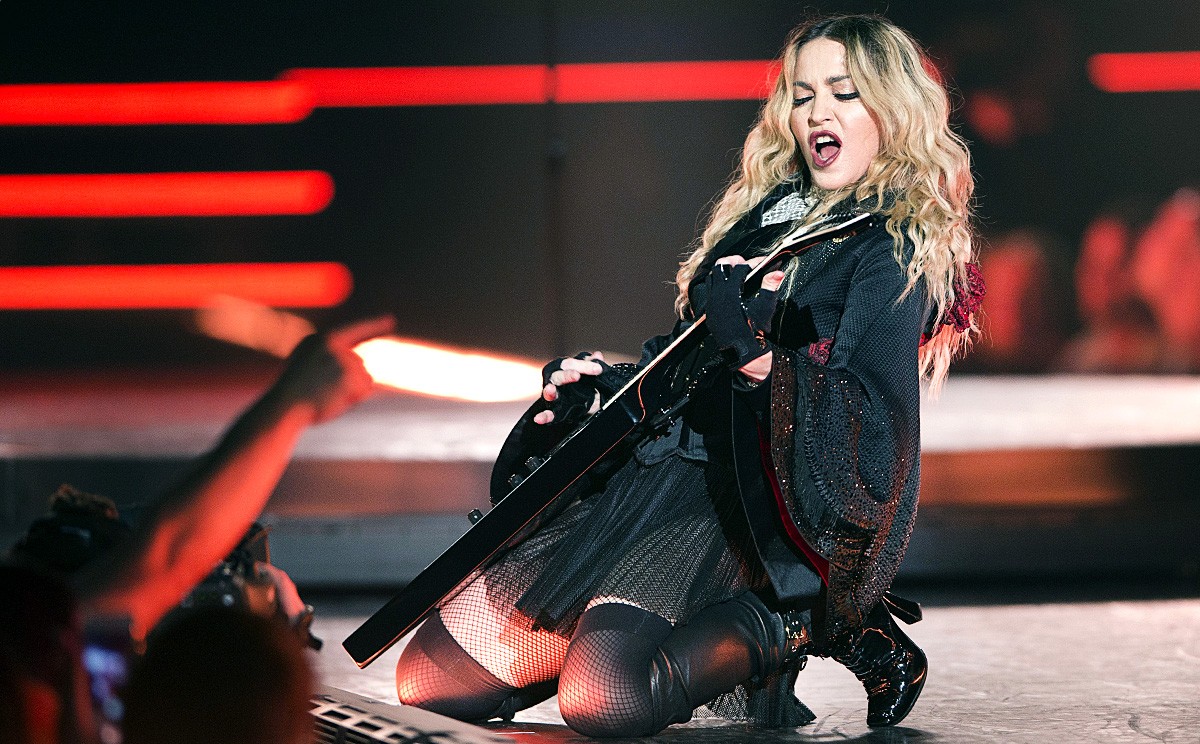 Music reviewer and die hard Madge fan Shane Crook offers his take on last night's Rebel Heart concert at Vector Arena in Auckland. Madonna's tenth world tour is the first to bring her 'Madjesty' to our shores.
"I'm here to start a revolution, are you with me?" Madonna asks in her opening video which displays a beaten down Marilyn Monroe-esque Madonna resurrected as a Joan of Arc-like leader commanding an army of thousands, while her 'Iconic' collaborator (boxer, Hangover star and convicted rapist) Mike Tyson is caged behind bars, but spouting that he's "beautiful." There's a lot of ways you could interpret this intro, I merely have enough time to deicide I'm on this Khalisi's side before the lady herself descends from the ceiling in a cage.
Surrounded by staff-wielding warriors she lunches into 'Iconic' which has just enough euro-trance bounce to feel like the party has really gotten started. The performance takes her from the stage down the crucifix-shaped runway, which penetrates the crowd with a small heart-shaped stage at its tip.
In costume that inspired images of forgotten Japanese dynasties, she dances into 'Bitch I'm Madonna' with jittery choreography reminiscent of 'Nothing Really Matters'. Just as the Rebel Heart album paid tribute to Madge's preceding work, the Rebel Heart show is chocker with nods to her most iconic performances.
Sliding an electric guitar star over her shoulder she shows us her old school side with a rock n roll retelling of early hit 'Burning Up' (a significant improvement on Britney's Femme Fatale cover) and connects with her fans, taking in her congregation as she fingers her chords.
A chorus of 'Bitch get off my pole' and 'Yezus likes my pussy best' follows as she takes us for a dip in her 'Holy Water', accompanied (naturally) by pole dancing underwear-clad nuns. Having gyrated (literally) on top of a female dancer she sidesteps into 'Vogue', complete with a reimagining of the Last Supper, one of the shows many chorographical highlights.
Segueing into the acoustic guitar-led 'Devil Pray' demonstrates exactly what you paid your dollars for, you are here to ride Madonna's wave and whether you were hoping to see old material or new, upbeat or slow, big hits or rarities, she will inevitably make the right decision for you.
As the queen leaves her stage for another costume change (she has eight, her dancers, ten) a video interlude begins that borrows from her 'Ghost Town' clip to the tune of 'Messiah', while a male dancer takes the spotlight for a dance solo.
The performance of 'Body Shop' that follows is admittedly non-descript, but in Madge we trust and next she delivers a true highlight with an incredibly intimate acoustic performance of 'True Blue'. Using a ukulele as the song's lead instrument, the performance feels inspired by Israel Kamakawiwo'Ole's rendition of 'Somewhere Over The Rainbow'.
She breaks to speak to the audience, serving up a 'Kia ora' for the excited crowd and warns us that we're bound to witness a few 'fuck ups' in the course of the evening. She then reminds us that she's Madonna and she's allowed to make 'fuck ups'. The crowd cheers.
I had just a moment to dry my eyes, from the, "I'm really seeing Madonna live" moment before she broke into the original disco mix of 'Deeper and Deeper' with her audience once again on their feet.
Next her iconic Brit Awards performance was recreated but this without backwards tumble as she launched into 'Living for Love' draped in a daringly long cape, proving once and for all that Madonna is truly fearless. Before you could say "absolutely no regrets," the flamenco theme was furthered with a sonically superb segue into La Isla Bonita. The crowd are up again, dancing and clapping.
Her audience's appetite for old-school whetted, Madge kept us well-fed with a flamenco-inspired mash up of eighties hits including her debut single 'Everybody' and classics 'Dress You Up', 'Lucky Star' and 'Into The Groove'. She drops her maracas mid sashay, but finishing on a high note reminds that she had warned us previously, a 'fuck up' might eventuate. She banters cheekily with the audience again and personalizes the show by learning a little Maori from the audience. Unimpressed with the unromantic syllables 'Ka-pai', she in turn embraces 'Te Aroha' and the crowd is madly in love.
She follows with 'Rebel Heart' that is backed with career-spanning fan art tributes to her considerable legacy. It is clear Magde is in love with the song as she strums and chirps her way through with a light breezy air, not often displayed by this focused performer.
Rebel Heart's most rebellious track 'Illuminati' kicks off the show's final act as flames enlighten the blackened stage revealing dancers astride massive flexible poles (phallic much?) that dip in and out of the crowd. Rising from under the stage the queen reappears for a cabaret rendition of 'Music', which speedily incorporates the thumping bass line that helped make it one of the most memorable hits of her twenty-first-century reinvention.
After a spot of tap dancing leads us into the forgettable 'Candy Shop', a robotic voice repeatedly narrates, "liv-ing in a material world," to riotous applause for her Classic Hits lovers. By the end of the 'Material Girl' performance, she is clad in a veil, holding a bouquet and walking down her own aisle. You can imagine the pitch of the screams let out when she asks who wants to catch her bouquet.
Her set's most unexpected moment sees her once again take a firm grasp of her ukulele and perform Edith Piath's classic 'La Vie En Rose', which few non-French speakers under forty will have ever heard of. Know it or not, it was hard not to be touched from the rarely-seen vulnerability she displayed.
'Unapologetic Bitch' which follows seems like an odd note to close the show on, but a fitting statement to define her career.
Before all was said and done Madge returned to the stage for an out-of-character encore and advised us all to take a 'Holiday'. Astute advice and a truly perfect end to an unforgettable New Zealand debut.
Madonna will return to the Vector Arena's stage for her final performance tonight. If you don't have tickets: lie, cheat, steal and sell your grandmother to get some.
Article | Shane Crook
Images | Tux Hika