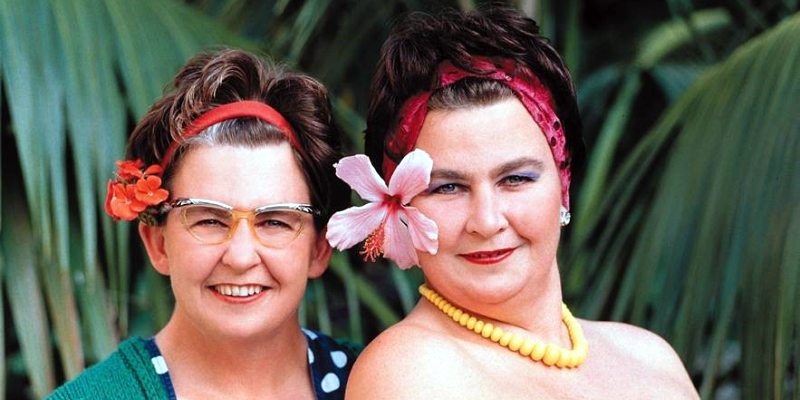 The only thing better than one queer Kiwi icon is two queer Kiwi icons! Check out express' favourite creative pairs.
The Topp Twins
You know them. You love them. Whether they are Lynda and Jools Topp, Camp Mother and Camp Leader, the Bowling Ladies, or Ken and Ken; the Topp Twins dominate the New Zealand comedy scene with their eclectic brand of musical wit and number eight wired humour.
These national treasures have been on the scene for more than twenty-five years and these iconic twins still draw a huge and diverse crowd. Whether they are performing in an a packed out stadium or in front of a television camera, they always bring their unique style and unforgettable kiwiana appeal!
Out since the seventies, the Topp Twins were the GLBT voice of a repressed generation and paved the way to a more accepting New Zealand. These awe-inspiring lesbian entertainers have made New Zealand proud through furious protests for a range of causes such as Nuclear-Free NZ, Anti-Apartheid, Māori land rights and, most notably, Homosexual Law Reform.
The Topp Twins and the APO: Untouchable is the latest collaboration between the twins and the Auckland Philharmonia Orchestra. Following sell-out concerts in 2010 and 2011, the concert will feature the music and characters that have made the Topp Twins so well loved. New Zealand conductor Ken Young (the 'third Ken' to the Topp Twins' Ken & Ken alter-egos) wields the baton for the concert.
The Topp Twins and the APO: Untouchable is on Saturday 14 May at Auckland Town Hall. For more information and to book tickets visit www.apo.co.nz
Todd Emerson and Kip Chapman
Todd and Kip are just about the cutest newly married couple in the history of New Zealand! They are also an amazing theatre duo who brought us the mind-blow – ing tribute to one of our other featured duos, Hudson and Halls. As well as being a writer and director, Kip joins his partner Todd in the upper echelons of New Zealand acting royalty – I even remember him from his stint on Shortland Street! Todd can also be found in the upcoming season of Westside in which he plays a gay character; I can't wait! These two are a sugar coated package of excellence. Bound to continue blazing through the NZ theatre scene, these two artists are not to be ignored.
Madeleine Sami and Ladyhawke
One is a small screen regular with wits beyond measure, and the other is a internationally prized songstress with chops to kill. Can you say power couple? Together they have taken the New Zealand media by storm and are now living in Los Angeles as a married couple. Can you imagine a night out in WeHo with these babes? Sign me up! Madeleine and Pip (no her real name isn't Ladyhawke) keep a low profile personal life but command attention in their respective fields (hence the composite image). In spite of their frequent jetsetting, these two kiwi beauties don't forget about their humble beginnings, and can often be found touring the country with their addictive humour and song.
Hudson and Halls
Peter Hudson and David Halls cooked up a storm on New Zealand television screens for ten fabulous years. In a time when homosexuality was illegal, these two men brought camp humour to living rooms all over the country. Society seemed to turn a blind eye (some intentionally, some not) to the rather obvious existence of love between the two culinary stars. They had slapstick comedy, oft unsuccessful gastronomic adventures and a catty repartee to rival the quickest queens of today. What they didn't have in the end was each other; Hudson dying of prostate cancer was too much for Halls to bear, and he took his life the following year. Largely forgotten by history until being revivified by a recent stage production. Hudson and Halls remain one of the greatest clandestine duos in queer New Zealand.
Russ Flatt and Alistair Wilkinson
The marriage of these two media moguls appeared in the pages of Women's Day to covetous sighs all across New Zealand. We know Alistair as our favourite Prime News presenter, and Russ is one of New Zealand's most talented photographers having been featured at galleries such as Tim Melville Gallery and Pah Homestead. Dap – per as hell and proud fathers to an adopted son, Alistair and Russ show couples of all variations how to do it right both at home and at work. Pictured below