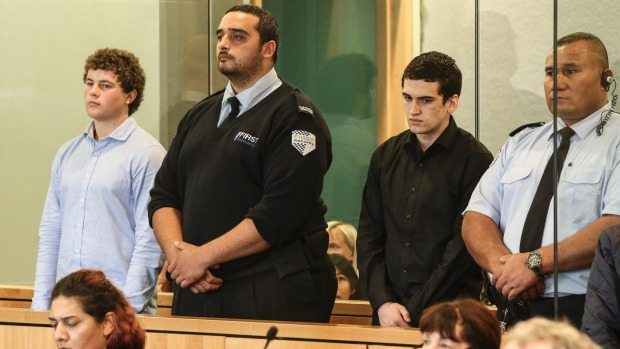 Leonard Nattrass-Berquist and Beauen Wallace-Loretz have been found guilty of the murder of Ihaia Gillman Harris. 
The two men who were under eighteen at the time of the murder pleaded not guilty and claimed self defence in the case which saw them attack Gillman Harris in at Ascot Epsom Motel in December 2014. During court proceedings, the two defendants claimed that the older man tried to sexually assault them.
Evidence provided showed that the two defendants had befriended Gillman Harris a week before the incident took place. Gillman Harris gave the youths cigarettes and alcohol and frequently offered to drive them and their friends around town.
During the trail, questions concerning Gillmann Harris' character put forth by the defence were quickly rebuffed by the prosecution.
On December 26, the two weeks had sent a text to Gillman Harris asking him for a ride. Obliging, they eventually arrived at the motel in the early hours of the 27 December where Gillman Harris allegedly offered the boys $1000 for sex.
The crown reported that the teens had prior knowledge of Gillman Harris' intent to offer them money for sex and had created a situation in which they could beat and rob him. This was evidenced by text messages sent between the two defendants including a text from Nattrass-Berquist saying "Yeah G, all day … I'm [going to] f*** a gay c*** up."
The crown has ruled that Nattrass-Berquist and Wallace-Loretz had lured Gillman Harris with the intention of attacking him. The two also stole items belongs to Gillman Harris including his motor vehicle.
Gillman Harris was found in Ascot Epsom Motel on 27 December covered in blood and beaten and later died in an Auckland hospital from his injuries.
"This has been a difficult case for all of us … But I know this has been a difficult case for you," said presiding Judge Kit Toogood to the jury.
Leonard Nattrass-Berquist and Beauen Wallace-Loretz were found guilty of murder, aggravated robbery, and theft of the victims Range Rover.
It was on the third day of deliberation that the verdict was reached with sentencing for the two males to be carried out in May.
Image | Chris Skelton / Fairfax Media