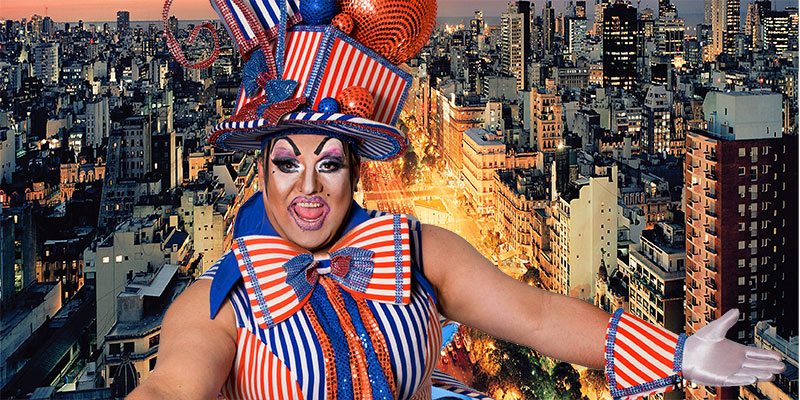 Family Bar drag star Miss Ribena reveals the best of Argentina's capital city.
What To Expect
"Buenos Aires is the most fabulous gay destination in the world" says Miss Ribena, sipping a cocktail and reminiscing on her recent trip. A gay mecca on the Argentinian coast, Buenos Aires is the epitome of lavish culture, outrageous nightlife and eye candy unrivalled by any other city in the world. With a unique European feel amidst the exhilaration of Latin American intensity and the devaluation of the Peso spelling a super cheap vacation with all of the bell boys and whistles, Argentina's capital takes gay tourism to a whole new level of camp!
Where To Stay
"We stayed at Axel Hotel which was marketed as heterosexual friendly! But there are so many gay and gay friendly places to stay in Buenos Aires!" Ribena boasts. We were sad to find that Axel Hotel itself has since shut its doors but Miss Ribena certainly was right in saying there are so many other options. For a relaxed atmosphere try Lugar Gay in beautiful San Telmo, or if you want something more upmarket, try Home Hotel in Palermo Viejo. Where ever you stay, you are bound to spy some beautiful bus boys!
What To Do
"Club Amerika is a must do. It is so camp. There were least two thousand people on the three floors, metal detectors at the door. It was huge. Think proper nineties drag divas, think Madonna. There was even an adult dark room out the back" Miss Ribena spills, saying that the gay nightlife in Buenos Aires is as good as it gets! She also suggests a visit to one of the many health spas in the area (health may be a loose term in some cases) which are predominately gay orientated. A visit to the local markets is another must do on Miss Ribena's list, as well as dining in at some of Buenos Aires best restaurants like Don Julio and La Cabrera.
When To Go
A cultural capital through and through, you'll find something exciting happening in Buenos Aires no matter the time of year! For gay travellers looking for a fabulous experience, make sure you are there for Buenos Aires' Gay Pride Parade which takes place on the first or second Saturday in November. Miss Ribena assures us that although the Parade is spectacular "Buenos Aires is gay 365 days a year!"
How To Get There
Miss Ribena is a busy woman and didn't want to waste her time trawling the internet for the best price. The team at express recommends  you take out all the stress of holiday planning with New Zealand's experts of everywhere, helloworld, and begin your extraordinary South American expedition! The team at helloworld will sort everything for you, and make sure no nasty surprises crop up to put a damper of your escape.  Jump online at helloworld.co.nz or pop into one of their fabulous stores all over New Zealand for professional service and expert advice.