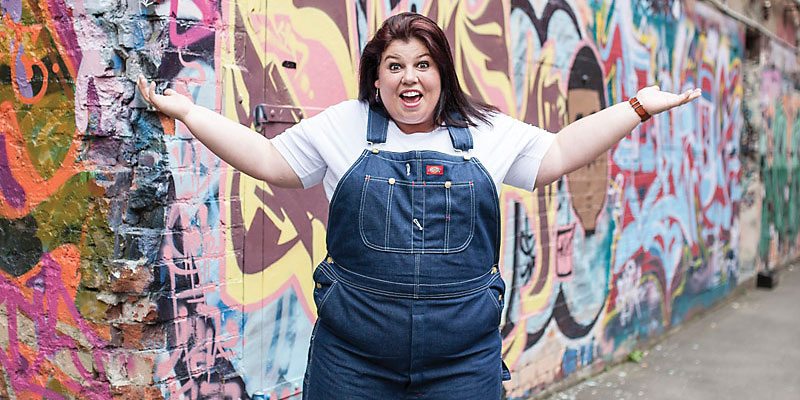 Comedy maestra Urzila Carlson gets completely unacceptable with Amy Jane Bedwell!

I first saw Urzila Carlson live at the Classic when she was a fledgling comic climbing the New Zealand comedy ladder. We smoked together on the bustling street outside the club and talked, albeit briefly, about the life that had lead her to the comedy stage. As my beer ran dry, I butt out my pall mall menthol and bid her adieu, all the while thinking that I had just meet the next big thing in New Zealand Comedy.
Needless to say, I was right.
Since winning the NZ Comedy Guilds Best Newcomer Award in 2008, Urzila has blossomed into one of New Zealand's most loved performers. She is unapologetically jaunty in her spot on 7 Days, cleverly informative in her weekly magazine column, and consistently hilarious in her frequent stand up gigs all around the world.
So let's start by saying we are bloody lucky to have her. Someone send South Africa a fruit basket.
One of New Zealand's most decorated comics, it is hard to believe that Urzila first took the stage in 2008 after workmates coaxed her into an open mic night.
"I started doing stand up in New Zealand," Urzila says in an interview with express. "It never crossed my mind in South Africa. You know when you stumble across something and think – Oh wow, this is a thing! I had never even been to a stand up gig before I came to New Zealand."
Urzila says that her first comedy show was a riotous success – because she knew seventy people in the room! But it wasn't just the plants that loved her self-deprecating comedic style, and before long Urzila had given up the advertising game for the life of a stand up comedian.
"I don't feel like I'm working at all. It's great!" she comments.
Alongside huge professional milestones, Urzila has also been blessed with life's greatest treasures – a loving wife and a beautiful daughter to whom she contributes much of her material.
"My family give me a lot of material and content, especially my daughter" she laughs through the sound of ambient Chipmunks music playing softly in the background. "If I had known that I would have had a kid ages ago."
A proud lesbian, Urzila tells express that conversations around sexuality are always present in her shows because they are a part of her every day life as a wife and mother.
"For me, being gay is a non-event. It is just like being a woman, or white, or black. It is an important part of my life so naturally it is a part of my stand up" she says about the way that her sexuality tends to function in her routines.
A staple in the International Comedy Festival since she burst onto the scene, Urzila returns this May in her new show, Unacceptable, in Auckland and Wellington!
"Unacceptable is about that pressure we experience to like what everyone else likes. It is about looking at why it is unacceptable to call someone out of their bullshit, or not like some indie band, or hate the paleo diet when really no one likes that stuff. We are sheep, you know. So, why is it unacceptable to talk about certain things?"
Besides being both raucous and side splitting, Urzila is also keen on her comedy having a message.
"It's food for thought comedy" she says, wanting her audience to take something away from the show other than a hangover and uber bill the next morning. She isn't looking to change the world but Urzila has more than just good comedic timing and a way with words – she's not afraid to say what is unacceptable!
Urzila Carlson brings her show Unacceptable to Wellington's Macs Function Centre from Wednesday 4 to Saturday 7 May and Auckland's Skycity Theatre on Friday 13 and Saturday 14 of May as part of the 2016 International Comedy Festival. For more information and to buy tickets, visit www.ticketek.co.nz.