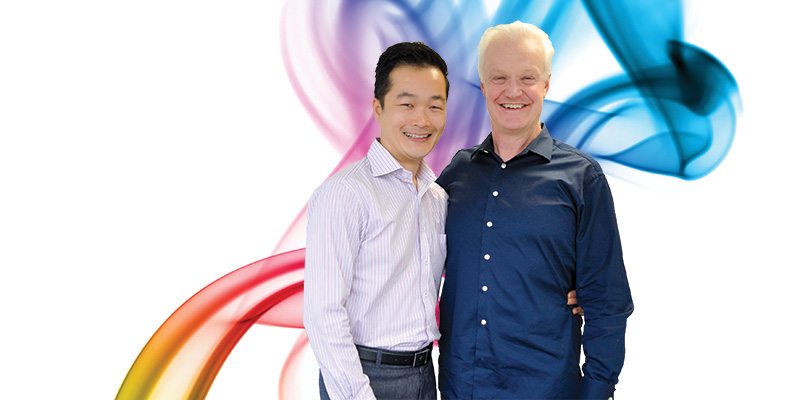 Malcolm Pacific senior Partner David Cooper knows immigration. With over twenty-five years' experience in the business, there isn't much that can surprise him. But when this veteran immigration advisor fell in love with a man from Malaysia, David got to experience the immigration process first-hand.
The twenty-first century friendship that begun online blossomed into love while Malaysian born Jonathan Chan was an international student in Auckland. When Jonathan returned to Malaysia, the relationship endured in spite of distance and the two made the decision to live together in New Zealand.
"The problem we had was, like many men of my generation, I had just come out of a marriage with children. It was difficult for us to get our relationship off the ground."
It was important for David to consider that bringing Jonathan into the family home while his children were adjusting to his change of lifestyle could be uncomfortable. Thinking ahead, the two secured an apartment nearby to David's house to remain close and gently ease their relationship into their family's everyday life.
"It was a huge change for [my family]. It was for all of us. We had to go through that adjustment before Jonathan could move in."
However, Government prerequisites around immigrating to New Zealand to be with the person you love put a time limit on this adjustment period. With strict rules around providing evidence and proof of a legitimate relationship, the two were required to be living together before the residency process could begin. Meanwhile Jonathan was eager to enter the workforce and begin his Kiwi life.
"It wasn't an easy journey initially getting Jonathan a work visa, so we had to make a request for a six month special work visa and within that time we had to transition to living together."
Happily, in this six-month period, David's children adjusted to the new family dynamic. The two weaved their lives and ultimately moved in together. "We've been living together ever since" says David. "Now, Jonathan is just part of the family."
Adjustment and sacrifice, David told express, are two things that people must be prepared to make when immigrating a partner. Jonathan was lucky to have come from a visa-less country, but people from countries outside of the Commonwealth have a harder time gaining residency. Some Kiwis must make sacrifices and live with their partners overseas before the government will approve immigration to New Zealand. While online relationships are becoming more and more prevalent in modern society, they remain unrecognised by immigration authorities.
"In the immigration instructions, you've had to have met the person you are claiming to be your partner before they even consider giving that person a visa. If you have evidence you have had a four-year online relationship, the government is going to say 'but you've never met him'."
Getting to know your partner in person then is one of the keys to both successful immigration and a successful long-term relationship. While this is a universal truth, other aspects of immigration are unique to some couples.
David says that the situation for people living with AIDS and wanting to immigrate to New Zealand is still grim and is unlikely to change in the foreseeable future.
In David and Jonathan's case, well thought out immigration plans have made for a happy, long-term relationship. By considering the realities of life in New Zealand and taking provisions before embarking on the immigration process, this multicultural love story is a great testament to true love triumphing all.
If you are considering bringing your international partner to New Zealand, David Cooper and the Malcolm Pacific team can help you make the process as easy as possible. Visit www.malcolmpacific.com for more information.