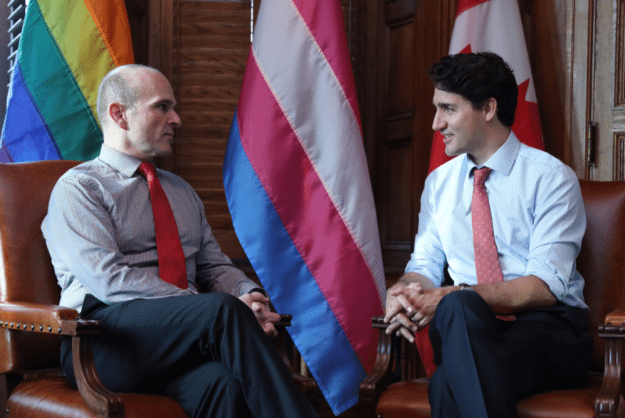 Picture: Twitter
In a move that furthers Canada as being one of the most progressive countries in the world, Prime Minister Justin Trudeau has appointed Randy Boissonnault as the LGBTQ2 Special Advisor.
Deeply honoured to accept the appointment of Special Advisor to PM @JustinTrudeau on #LGBTQ2 issues. Offering a strong voice & an open ear.

— Randy Boissonnault (@R_Boissonnault) November 15, 2016
Boissonnault is the representative of Edmonton Centre and one of six LGBT+representatives in the Canadian Parliament. As Prime Minister Trudeau puts it, the role is "to advance and protect the rights of the community and address historical injustices that we have endured".
In addition to the new role, the Canadian Government has announced that it will repeal Section 159 of the penal code, which only allows anal sex if it is between a husband and wife (that is, not same-sex), in private, and with no more than two persons.
This law is obviously highly out of date, and has been a thorn in the side of Canada's LGBT+ movement for many years.
As Boissonnault puts it, "I am proud to say that in moving to repeal Section 159 of the Criminal Code today, the Government is addressing an issue that has been of concern to the LGBTQ2 community for many years. In my role as Special Advisor to the Prime Minister, I look forward to working together with the Minister of Justice, my caucus colleagues and LGBTQ2 organisations from across Canada to ensure full equality for LGBTQ2 community members."