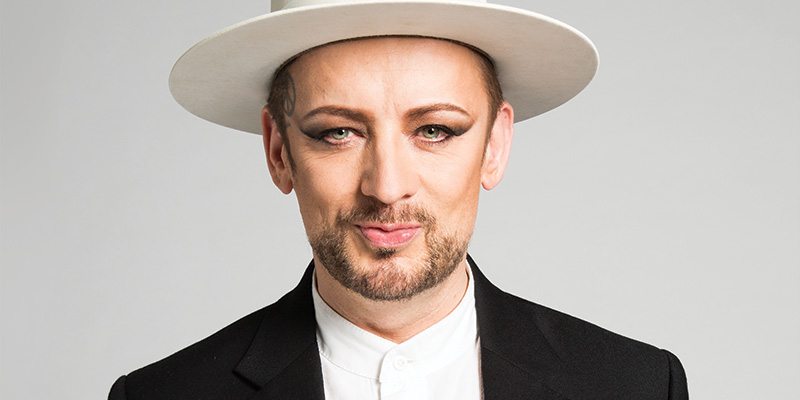 On Friday 2 December, '80s icons Culture Club will descend on New Zealand for the first time, performing at Christchurch's Horncastle Arena and Auckland's Vector Arena two nights later. express's Oliver Hall caught up with their legendary front-man Boy George to discuss a life in the public eye, living in the present and working with your ex.
The last time I interviewed Boy George was back in 2010 when he was releasing music for the first time since completing his 15 month prison sentence. Other journalists had warned me he would be a nightmare to interview and the actions that led to his imprisonment (attempting to kidnap and torture a male prostitute, who escaped George's capture after being whipped with a bike chain) suggested a violent dark side. In actual fact he turned out to be rather delightful: entering into conversations about his incarceration, his drug use and assurances he was the happiest he had ever been.
Today, he is equally as positive and just as charming. Every answer he gives is filled with chuckles and sound less passive aggressive than his words look in print.
"My life is in good shape, there's really nothing to be unhappy about. I'm coming up to nine years sober. I've moved on from my past. I wish other people would. That could be your headline, 'I've moved on, why don't you?'" he tells me after I enquire what has changed for him personally since last time we spoke.
At 55-years-old, George remains as prominent a celebrity in his homeland as he was when he shot to fame in the '80s as the face and voice of Culture Club. After the band went their separate ways, he had success as a solo artist and DJ, and continues to embark on new projects, currently working as a mentor on the British version of reality talent show The Voice, and appearing as a contestant on the Celebrity Apprentice.
I ask if he had ever thought he would remain in the public eye for so long.
"I've always been very optimistic. I've always believed I was born to do what I do, so your answer is probably yes. I'm happy to be in this place and to be in such good shape, and do what I do with a clear head and enthusiasm. I'm doing it from a place of great empowerment […] Trying to live in the now is a very sensible thing to do. There's nothing you can do about the past and the future is unpredictable, so it makes sense to put your face in the cake of life and enjoy it."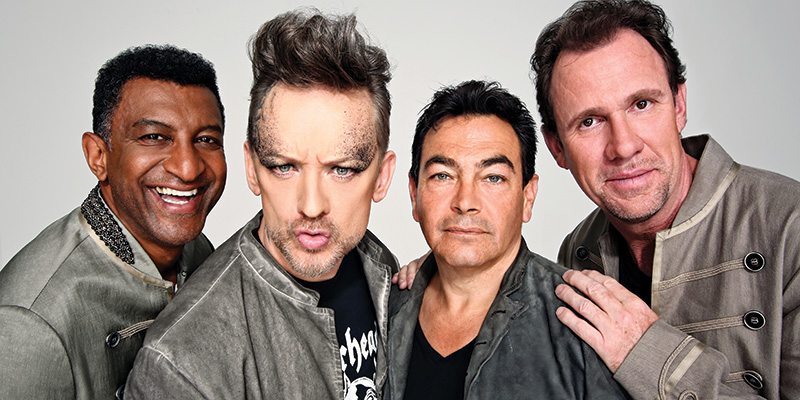 The now for George is preparing for 40-date world tour. He assures me, "no one goes home from a Culture Club show without a smile on their face. We put on a great show. We don't dial it in. We really enjoy what we do. I think a lot of people worry about seeing an older band because they might be tired or dishevelled. We've had amazing reviews for the last tour; people have been really surprised by the show and by our energy levels and our enthusiasm for what we do. You won't regret coming."
Touring with the band's original (and only) line-up means George will be taking the stage with ex-boyfriend Jon Moss, the man who he claimed to have written many of Culture Club's most famous songs about. "You might as well be talking about me dating a dinosaur!" he tells me when I ask what it is like being on stage with an ex, while singing songs you wrote about them. "It doesn't even come into my thoughts. I don't think it does for him either. It's like, 'yeah, something happened – do you remember it?'"
When I try to push for more, he tells me, "let me let you in on a little secret. Those songs are about me, they aren't about anyone else! When you write songs, they're questions. You're talking out loud, you're looking for answers – especially when you're younger. A song is only partly rooted in the truth, you may start by writing about something personal, but they always turn into something else because you've got to structure a song in a certain way. A song isn't a documentary, it's a piece of art that you have to shape to work for other people's ears and radio."
I have one final dig to unveil a little more about the band's dynamic, asking, where he finds the emotion when he's singing 'Do You Really Want to Hurt Me'. And once again, I'm assured that it is all about George. "Oh, I'm a very emotional person. I cry at adverts. I cry at everything!"
Culture Club play Auckland's Vector Arena on Sunday 4 December and Christchurch's Horncastle Arena on Friday 2 December. Tickets through www.ticketmaster.co.nz. We also have two double passes to giveaway.