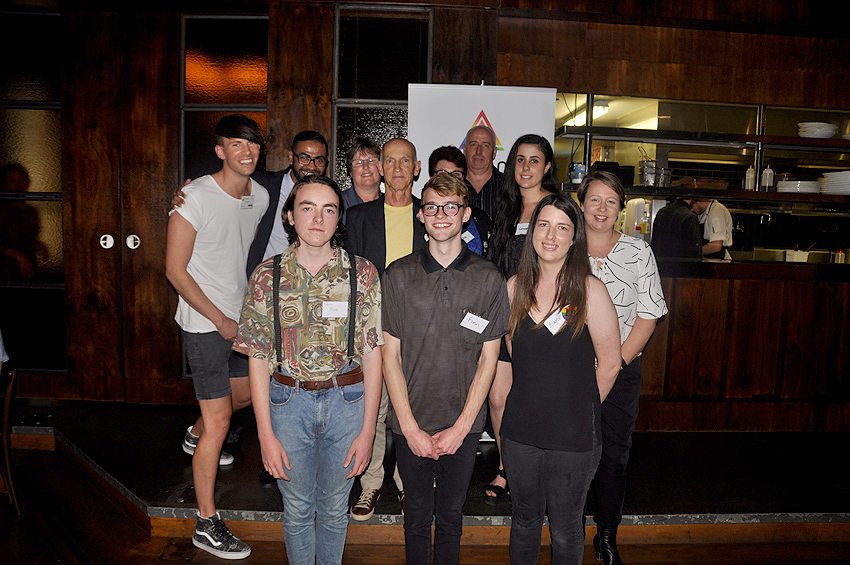 Rainbow Auckland Finishes 2016 With a Bang
Wednesday 7 December
The White Rabbit on the Park, 37 Drake St, Victoria Park Market, Auckland
Photos: Zakk d'Larté
Rainbow Auckland held their busiest mixer of the year to date at an exciting new venue, The White Rabbit on the Park. The GABA Charitable Trust awarded two new Rainbow Auckland/Westpac Tertiary Scholarships in addition to the annual two Rainbow Auckland/AUT Tertiary Scholarships. Three of the recipients were able to make it: Ethan Morse, Finnlay Allerston and Aimee Quinlan with the fourth, Brooke Milne, sending a pre-recorded thank you from his hometown. This was an exciting opportunity to meet and hear the courageous stories from the grant recipients.
Rainbow Auckland presented Miriam Saphira with a Life Membership Award, which she accepted with an inspiring speech about her upbringing.
We heard from Festival Director, Julian Cook, and Parade Producer, Shaughan Woodcock, about the amazing events planned for the 2017 Auckland Pride Festival.
We also heard a volunteer request by Taane Mete from Okareka Dance Company and an elevator pitch from new RA member, The Pot Specialist.
Two $50 meal vouchers were donated by The White Rabbit on the Park as well as a bottle of wine donated from the cellar of Murray Smallfield for the regular business card draw with our own Kunal Sharma selected as one of the winners!