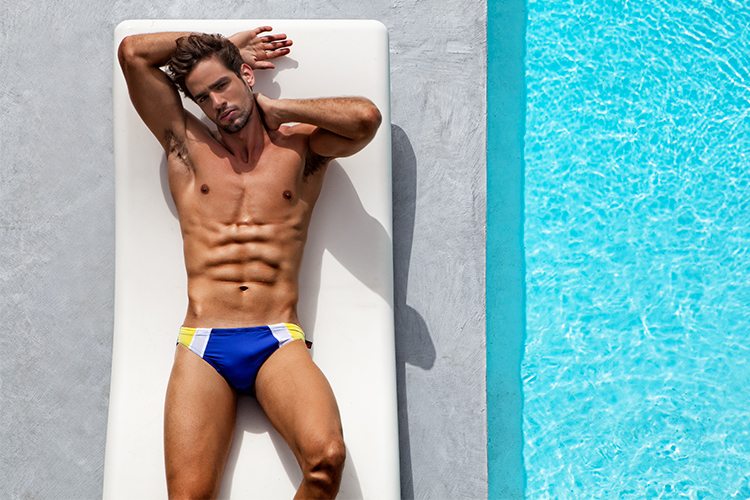 For express' third annual swimwear issue, we checked out 12 of the hottest brands to give us the latest look in swimwear for 2017!
Long gone are the days of full-length cotton togs. These days, briefs and boxer briefs are taking over the scene, with particular attention from all the brands on making pouches to emphasise your, well, junk.
In line with the vibe of summer, we are seeing incredibly bright colours – neon party anyone? – and graphic prints dominate.
And for those who like to alternate their time between dozing in the sun and splashing around in the glittering waters, the fabric of choice these days tends towards quick-drying synthetics (blends of polyester and elastane, as well as different variations of microfibre).
1. Andrew Christian
Andrew Christian continues to impress with every collection which feature a slimming waistband and comfy leg openings for a complete body accentuating design. Each pair also contains a super comfy pouch that provides extra lift and support. With their anatomically-correct pouch, your package falls naturally into the super-soft snuggle pocket to create a truly enjoyable and unique wearing experience in and out of water. Virtually eliminates sticking, squashing, sweating and chafing.
2. BoysGetWet®
BoysGetWet® design original and exclusive men's swimwear, available in three different cuts. They offer comfort, perfect fit and high quality. Every piece is handmade with up-market fabrics and accessories in their workshop in Spain.
This piece, Holidays, has a classical design that fits perfectly your body. The back and the seamless pouch are anatomically shaped to provide you an optimal comfort and to ideally flatter your silhouette. Made with the best Italian fabric and entirely lined, it does guarantee a better shape perfomance and a long lasting life. Classical stripes and colours inspiring the levity and sweetness of holiday moments.
3. Supadupa Shorts by Supawear
The seasonal palette of Supawear's summer 2016-17 collection is one of bright confident greens, strong fossil greys and cool blues alongside custom prints inspired by summer.
Highlights include Supawear's new woven stretch fabric, which makes it super lightweight, quick to dry, mobile and fun. These are the perfect shorts this summer. Available now in three summery prints which include, Pineapple, Blossom and Ahoy!
4. 2EROS
Key pieces in 2EROS' summer 2016-17 Collection include the S60 Bondi Shorts, V10 Icon Series 2 Swimwear, V32 Cuban Swimwear and The Birds of Paradise collection.
The V32 Cuban is a Brazilian-styled fit: flat in front, fitted around the leg and waist that is designed to hug all the right places to enhance and showcase your assets.
Check out the rest of 2EROS' Summer Downunder Collection!
5. aussieBum
aussieBum brings back the fun, retro look for summer with the new Vintage Stripes range in their classic swimwear style – now with Wonderjock Technology to give that extra lift and support. Look good and feel great with these sexy, lightweight and quick drying swimmers.
6. Modus Vivendi
The 2017 swimwear collection of Modus Vivendi is quite extensive as usual. There are six distinctive lines within the collection: Neon, Neon Athletic, Rainbow, Contrast, Double Face and Towel. The whole collection is a celebration of colour.
The first of many exciting new lines is called Neon and comprises men's swimwear in four distinctive styles to suit every taste: briefs, Brazil-cut boxers, boxer briefs and boxer shorts. All four styles come in three vibrant colours: neon aqua, neon fuchsia and neon yellow. Setting the trends this summer, Modus Vivendi's Neon line, stands for eye-catching colours in classic swimwear styles.
7. ADDICTED
Born in 2009 in sunny Barcelona, the ADDICTED brand has a wide range including underwear, swimwear, sportswear, streetwear & accessories. The name ADDICTED was chosen as the apparel under the brand is sensual, uncensored and racy. These are designed for men who are self-confident, sexy and daring.
Their briefs are 80% polyester and 20% elastane and are made of the finest fabric.
8. Mosmann
Classic men's tailored swim shorts. Paying homage to old-school cool swim shorts with a front-snap button and zip-fly, these shorts are versatile enough to wear riding a bicycle, hanging out at your local Auckland pub, or a café in the Amalfi coast. Designed like chino shorts, they feature hidden drawstrings with internal mesh-lining and pockets so they never fill up with water. Made from quick-dry twill Microfibre, you can ensure to go from beach-ready to bar-ready in no time.
Tailored short-length shorts make your legs appear longer and add visual height. This summer collection has six-inch inseams available in 12 styles in classic bold colours and prints.
9. LASC
Presenting the newest swimwear for spring 2017. Founded in 1983, LASC is considered by many to be the largest men's clothing store in the city of Los Angeles and is a West Hollywood landmark. Made of soft nylon athletic mesh fabric with elastic waistband and nylon trim, LASC's popular JR Varsity Trunk has micro-mesh lining, a nylon zippered fly and an outside key pocket to give this trunk comfort and practicality. The draw cord allows you to make adjustments to the waist size.
10. Jack Adams
Hit the beach this season in the latest Jack Adams swimwear range. Made in Europe using finest microfibre fabric, Microsense, feels like velvet. Sexy and quick-drying. Styled with a loose-fit front and a more comfortable wider waist finish.
Made of 90% polyester and 10% elastane.
11. RufSkin
Based on their best selling cut, this modernistic alternative to the classic swim brief, Pike, is crafted from high-performance matte-finish nylon-spandex featuring four-way stretch, sweat-wicking properties and high compression. Its unique design includes a contrast panel constructed using flat finish rubber poly-spandex with the new R-swim logo. Full built-in liner. Two colour options, ID pocket for the essentials and made in California.
12. TEAMM8
TEAMM8 has released their new summer 2017 collection, a sublime mix of swim shorts, board shorts, swim briefs, tanks and T-shirts. Stylish prints and comfortable fabrics have been included to construct fashionable and summer must-haves. The combination of bright colours over dark backgrounds has resulted in inspiring outfits that will take you poolside, beachside and beyond. The Flamingo print collection is an absolute scene-stealer.