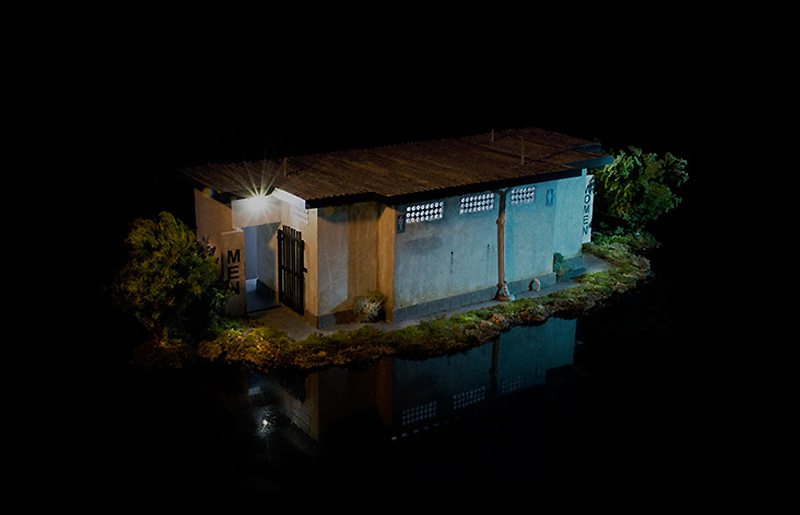 An important, but much darker, aspect of our Rainbow world is reflected in a new body of work by queer photographer and designer Sean Coyle.
Cruising Wonderland opens at the Pah Homestead on 14 February and contains 12 pieces, including four dioramas, which form the dialogue of the exhibition, and seek to remind viewers of the perilous days of our past, especially for gay men.
The 'Wonderland' of the title refers to Wonderland City, a huge amusement park in Tamarama, Sydney, which offered public entertainment such as roller coaster rides and a Mirror House to punters from 1906–1911. In its heyday, it was the largest open-air amusement park in the Southern Hemisphere.
When it fell into decline following its closure in 1911, it slowly became a cruising site for gay men. "It was dark, there were lots of trees," explains Sean, "so it was a natural place for gay men to cruise".
Wonderland City became Sean's framework when he decided to create a body of work which looked at darker aspects of our gay male past. "The important thing with the work is that it offers an opportunity to reflect [on our past], and hopefully, is reparative. By acknowledging our past and looking forward, the work allows viewers some form of understanding of queer history."
The place which once gave laughter and pleasure to thousands over its five years became, in the late '60s and early '70s, a place of murder, of torture and mutilation of the gay men who cruised there.
A particularly heinous spate of such murders are linked to the spike in the AIDS epidemic in the '80s, not helped by a series of advertisements played nationally showing AIDS as the Grim Reaper, bowling out families.
Sean, who was born in Aotearoa but grew up in Australia, believes the Australian psyche was very affected by that advertising, a belief supported by the outbreak of severe homophobic violence which followed the adverts.
"I was a teenager questioning my sexuality at the time, and those ads had a big effect on me," says Sean. "Then the murders, the media were full of them."
An infamous toilet block in Hamilton, New Zealand is part of the exhibition, where a heterosexual man twice killed gay men, stabbing them in the back. During his day in court, the coward and murderer was quoted saying, "I wanted to kill a gay man".
"When I decided to do my PhD, I wanted to grab hold of something really important, and this is a topic I feel really strongly about," continues Sean. "For example, in 1972 in Adelaide, queer Professor George Duncan was murdered by being thrown into the river; there was a big cover-up but it was later discovered that members of the police had done it; but because he was a professor, there was a massive public outcry.
The one good thing that came out of it was that it started a dialogue which resulted in South Australia becoming the first state to decriminalise homosexuality."
Sean believes that the impulse for the kinds of murderous acts his exhibition covers lie "…in a deep, irrational homophobia coupled with a violent concept of hetero-masculinity." With the normalisation of homosexuality that decriminalisation brings, such homophobic impulses can only decrease.
However, the need to remind ourselves of the brutal, dark aspects of our past will increase as distance tends to blur the record. With exhibitions like this, there is no likelihood of that.
Cruising Wonderland is a free exhibition and runs from Tuesday 14 February to Sunday 2 April at the Pah Homestead.
Article | Sandi Hall