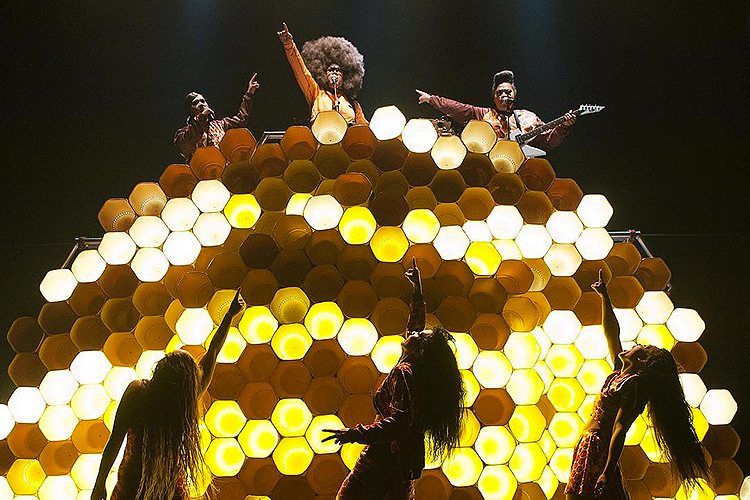 Last night, an amazing Valentine's treat was installed for the audience attending the opening of Hot Brown Honey – a sizzling celebration of loud, proud women of colour. The show promises an "audacious platter of dance, poetry, comedy, circus, striptease and song," and it certainly was. The one-hour show was an absorption of brilliant escapades of music and dance combined with seductive burlesque temptations that would have challenged your perceptions of gender, colour and privilege. Devised by director Lisa Fa'alafi and musical director Busty Beatz, the Hot Brown Honey hive drove the audience into a participatory frenzy!
We were in for a night of wild hip-hop, laced with a barrage of entertaining events challenging the colonisation and stereotyping of women, particularly those who are coloured!
This Australian-driven performance was further enhanced by Matehaere Hope Haami, also known as 'Hope One', a young Māori artist, community mentor, and one of the best female beat boxers in the world, who lead the mihi whakatau (welcome) into the hive of the Hot Brown Honey world.
Busty Beatz continued to bellow from the top of the Hive accolades to the Pride Festival and Auckland Live for the awesome events during the festival. This was while she narrated her story for her HBH Maids to perform a myriad of innovative hip-hop story telling!
Going by the reaction of the 300+ people attending this opening extravaganza, the Queen Bee of the hive and her maids were able to absorb us right into the centre of their seductive hive of enticement!
It was in incredible show, and as part of the Auckland Pride Festival we expect it to empower and liberate every young Polynesian LGBT+ person, who sees it.
For more information and to buy tickets, head to www.aucklandlive.co.nz.