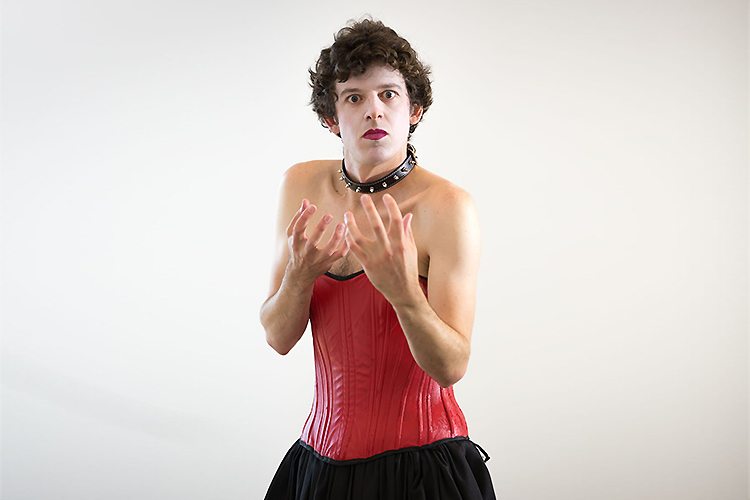 express interviewed Alex Taylor, a leading young composer who's championing anarchic and vibrant opera for a younger generation. Performing in the upcoming show of Purcell's Dido and Aeneas, we found out everything from what it has been like re-working the music, how the audience will react to the performance, and who came up with the costumes!
What has it been like re-working the music for Dido and Aeneas: Recomposed?
Director Frances Moore approached me with an idea to "recompose" Purcell's Dido and Aeneas – essentially she was saying, take this classic Baroque masterpiece and make it weird, make it new. What I've done is to draw on music from all sorts of musical genres – from a Beyonce piano riff to Stravinsky's Rite of Spring – and layer them over Purcell's original vocals. I've enjoyed it a lot – especially because I get to perform in it too.
Please explain to us the choice behind the over-the-top-gowns, crazy make-up and chuck taylors!?
I think opera is inherently fantastical – we shouldn't pretend it's realistic. The costumes I guess represent that, as well as an intersection between the modern and the baroque, so these amazingly beautiful (but also garish) foam wigs, corsets, chuck taylors, very stark make-up, feather boas. I get to wear a red latex corset and an enormous black skirt, so I'm not complaining…
What is it like being openly gay now compared to when you first came out?
I think when I first came out I was pretty determined that it was no one else's business and I didn't really want to be part of a community. I think that's different now. I'm still a hermit a lot of the time but I I'd like to think I'm much more relaxed and open these days. It's also so noticeable how much more you can see yourself reflected in the world – I wish shows like Please Like Me had been around when I was a teenager.
How do you feel your performance connects to the audience?
It's a visceral show – the performers are right up in your face. I think most people aren't used to being that close to acoustic sound, to the actual vibrations of the voice. The show is suggestive, playful, anarchic, and full of contemporary references while also being a total escape from the real world.
What is the main message you hope to communicate?
I think people are intelligent enough to draw out different meanings and emotions from the show. But I think the slogan on the poster captures it pretty well: "Love's a Bitch".
Do you have any advice for those in the LGBT+ community who may be struggling with this?
Do things at your own pace, and don't try to please everybody.
Alex Taylor recomposed and performs in the anarchic opera 'Dido and Aeneas: Recomposed' at BATS theatre, Wellington from 30 March – 13 April. Tickets are available from www.bats.co.nz.
Photo Credit: Priscilla North