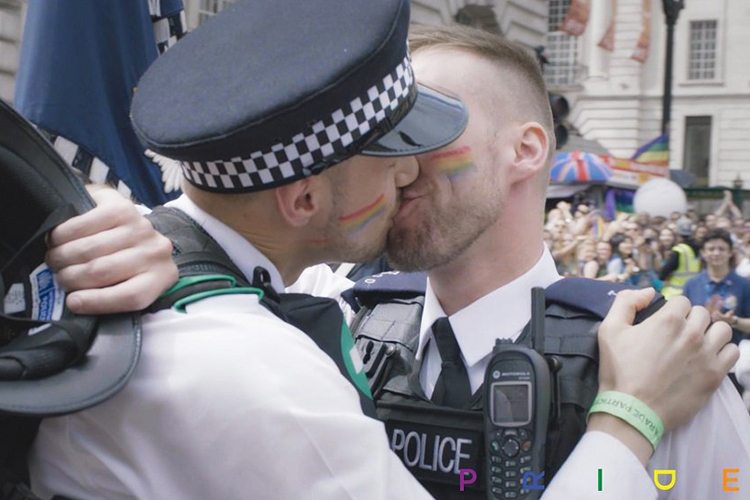 A work-in-progress edit of the documentary PRIDE? screened at the BFI Flare: London LGBT Film Festival in March to great reception, but in order to get it finished and reach a wider audience, a crowdfunding campaign has been launched.
The UK film is an exploration of what Pride means in a world of increased visibility and acceptance of LGBT+ issues, yet amidst current political uncertainty.
Director Ashley Joiner says, "As global politics shift, LGBT+ rights are being tested around the world. PRIDE? offers a vital tool to encourage debate and conversation within our communities to ensure our next steps forward are impactful."
"Following our initial screenings of PRIDE? in March, we have the opportunity to take the audience's feedback and develop the film to its full potential," he continues.
Jay Bernard, the Programmer for BFI Flare, says:
Pride began as a protest and has taken off around the world as a celebratory symbol of freedom, democracy and human rights. As the mainstream march in London draws larger crowds than ever before, off-shoots have also started to take root, signalling a major shift in queer culture and organising. What does it mean to be proud amidst discussions about racism, homo-nationalism and capitalism? Equally, what does it mean to critique the organisation of Pride-In-London when 49 innocent people were murdered in a gay bar in Orlando last summer?

PRIDE? is a provocative and intelligent documentary detailing the history of the movement and exuding compassion for the many, often conflicting, parts of the LGBT+ community. With wonderful, articulate commentary from the organisers of Black Pride, Queer Picnic, Pride in London and Lesbian Strength, among others. PRIDE? is a genuine community effort that seeks to answer a simple but profound question about the future of this iconic movement.
The filmmakers have created a crowdfunding campaign with a goal of raising £25,000 in order to help complete the movie, including shooting more interviews, engaging graphic designers, getting archive footage, and completing legal reviews.
Take a look at the trailer below and, if you like what you see, head over to Indiegogo to help out!