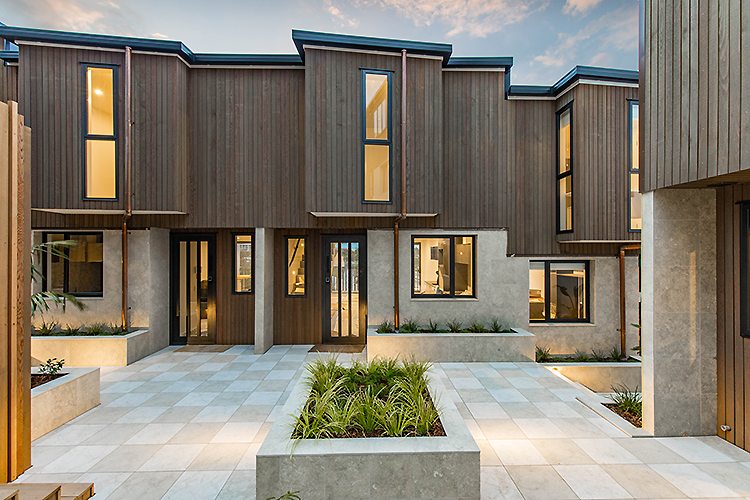 express

enlists the help of interior designer James Peters to put his expert eye up to the stylish new development, Waima Terraces.
---
Approaching this recent construction of 16 apartments, my first impression was how visually pleasing they are to the eye.
Strolling around the exterior from Waima St, I was impressed by the choice of materials. Narrow vertical timber stained a chocolate brown dominates the structure, complimented by off white/subtle brown tiles laid over a strong concrete foundation. Charcoal joinery sits well within these two chosen materials and the copper downpipes add an extra attention to detail.
Within the perimeter of the apartments, an open courtyard lends space and light into the heart of the building, aided by appropriately chosen plants within the designed landscape gardens. How refreshing to experience generous foliage in a new apartment complex. Here, architecture has locked nature in a strong embrace. The courtyard projects a strong sense of community.
With the first released terrace houses already completed and ready to go, I viewed two of the apartments on offer. Both interior spaces flowed into one another, unobstructed by divides. The hallway entrance, kitchen, dining, lounge and deck areas share the same space, differentiated mainly by the display furniture.
With a major shift in society the past decade regarding interior spaces, especially for Auckland City dwellers, smaller spaces are in now that younger folk don't want to be weighed down with too much clutter.
The floor plans range from 166m2 to 186m2 with each including a 4.5m x 1.5m balcony offering stunning panoramic views of Mt Eden. The larger apartments also include a 4.5m x 1.5m courtyard.
A social shift has also occurred. The huge demand for housing has led architects and developers to propose a change in style to go along with the change in attitude. Generally speaking, modern men and women wish something more daring than a cosy cottage or the heaviness of a villa my generation once cherished. Rooms are no longer over-decorated, but carefully composed with free-standing pieces of choice furniture.
Due to population increase, scarcity of land in central cities is at a premium and there is a dire need for new living units. We are building houses and apartment blocks on difficult sites that were once never considered. Younger people today travel extensively, spend more on fashion attire, dining out, furniture and art.
They have adapted to more confined spaces and the Waima road complex is an example of this building trend. This well-designed complex mirrors the times.
Crossing the courtyard to the second apartment, I was again struck by the excellent early afternoon light. The different floor plan in this apartment has the master bedroom with an adjoining all-purpose room that could again accommodate several options – a separate television room, office/library or guest room perhaps.
The interiors of the two apartments were positive, in terms of light factor and spacial layout. The timbered floors enliven the main room and entrance, whilst the kitchen was stylish and had a practical approach. The pantry storage units were well placed, beside the gleaming Bosch appliances. Paired with generous bench space, the kitchen is designed to work for busy folk.
The apartments, each priced from $1.5 million, are ideally situated in terms of locality. Access to Ponsonby, Kingsland, and K' Rd are just minutes away, as is access to the motorway system.
In form and structure, full marks go to architect, Barney Milic, and a bouquet to the landscaper, Xanthe White Design. Overall, the complex has merit.
The pleasing exterior design stands tall and proud, the building's solidity, garaging, location and the interior floor plan options will appeal to the urban professionals and downsizers. I would recommend you hop on your bike and view this complex as there are strong, appealing features to be appreciated.