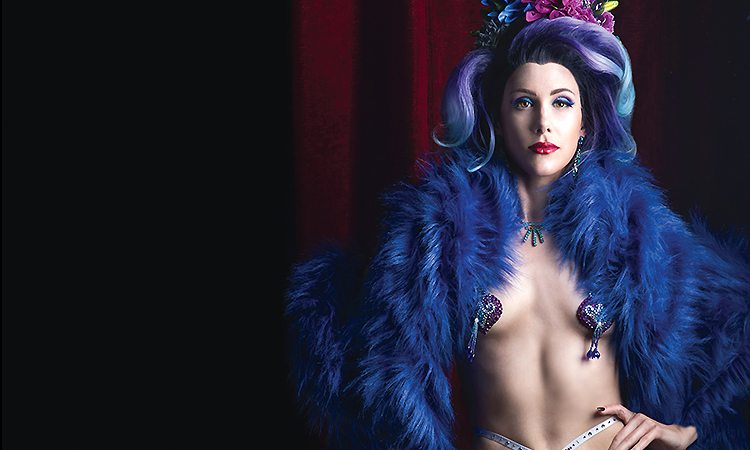 express

talks to Nat Hugill — burlesque artist, drag king, actress, director and producer — ahead of her performance at the

2017 Hollywood Burlesque Festival

.
---
How long have you been performing as both your burlesque and drag king personas?
Lilly Loca had her first stage debut in May 2009 at Miss La Vida's Burly-Q Revue. Although I've performed in drag in theatre since I was 11, I developed and debuted my first original drag character, Gary Krumbert, at Miss Phloss' Queerlesque in 2011. I am a trained actress and I really wanted to bring more theatricality and vaudeville into the Auckland burlesque scene – thus Gary was born. I now have several drag characters.
What inspires your performances?
So many things! It may be a song I'm listening to, a colour, a mood, a current event, one of my icons, a movie. My latest act, Absolem, was inspired by Alice in Wonderland, which I happened to be watching with my daughter and thought 'Hey – that would be a really neat act idea!'
I often like to take influence from things others may glaze over. For example, Alice, The Red Queen or The Mad Hatter tend to be the most common influences for burlesquers when we think of Alice in Wonderland. But I love Absolem, with his wit and charm. With the help of Ivy from Asphyxia Couture we made him into a hookah smoking, strip-teasing, transforming burlesque goddess!
How did your performer names come about?
For Lilly Loca, I wanted my name to feel personal. Yes, it's my stage name, but I didn't want to feel completely disconnected from it. I also wanted to still love it ten years down the track. So the actual name Lilly Loca is meant to be a juxtaposition of my personality. 'Lilly' is the name of my favourite aunty, calla lily's are my favourite flower and represent purity, peace and rebirth. 'Loca' is a homage to my Spanish heritage and the more loco side to my personality. As for Gary Krumbert, the name Gary just came to me when I was devising him, and then I literally did a Google search for 'geeky names' and I came across Krumbert and it stuck!
Which person, living or dead, do you admire most?
Oh my, that's difficult. If I had to narrow it down – I'd say Lady Gaga and Freddie Mercury. My dad brought me up listening to Queen – Freddie is just such an incredible singer, musician, composer, curator, everything! I guess that's also why I love Gaga as she is all of the above as well. Plus, both are genuine, selfless, ridiculously talented and are strong leaders who aren't afraid to make their beliefs known.
What do you consider to be your greatest achievement (so far!)?
Becoming a mother and doing what I do for a living. I have worked very hard to get here, and having a child in the mix makes it hard work, but I wouldn't change my life for the world. Everyday I wake up feeling blessed.
Do you have any motto(s) that you live by?
I have two, 'be kind to yourself' and 'choose your attitude'. I need to remind myself of these on a regular basis.
You're the only Kiwi performing at the festival PLUS this is your first time performing outside of Australasia — how does that feel?
Slightly daunting to be honest! I've never done a long-haul flight, and I'm a pretty active person who cannot stand sitting down for long periods, so the flight to LA will be interesting! I'm super excited – it's always been one of my dreams to perform in Hollywood like Lili st Cyr and the silver screen starlets like Marilyn Monroe. I feel very fortunate and I cannot wait to represent #teamkiwi hard and show them what New Zealand Burlesque is made of!
Anything else you'd like to tell our express readers?
Believe in yourself. You are worthy of achieving your dreams. You just need to believe it. As Henry Ford so aptly quoted, "If you think you can do a thing or think you can't do a thing, you're right." Put the right energy and affirmations out into the world, keep striving and working hard, and you'll get there. Take it from someone who has been knocked down several times, and always got back up!