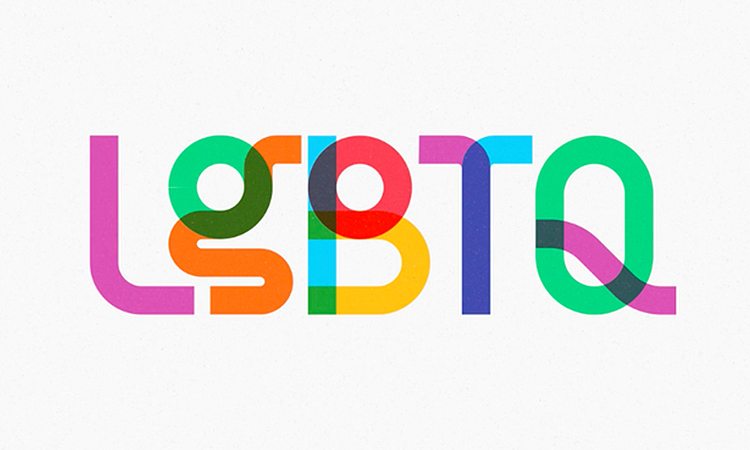 Get ready to write with rainbow.
---
It's been nearly 40 years since artist and activist Gilbert Baker created the first rainbow flag with his bare hands. It was 1978 when Baker hand-dyed and stitched together eight strips of vibrant fabric, forming the now iconic flag.
Although, over time, the colours were condensed from eight to six, the flag now flies as a symbol of unity and pride and is immediately recognisable as a symbol of the LGBT+ community.
Each colour signified a certain power: red stood for life, orange for healing, yellow for sun, green for nature, turquoise for magic, blue for peace, purple for spirit and pink for sex.
Unfortunately Baker died in March this year, but his iconic contribution to queer visual culture lives on. Thanks to the combined efforts of advertising agency Ogilvy & Mather, Newfest, NYC Pride, and Fontself, the spirit of his rainbow flag has been infused into a new font, honouring his legacy.
The colourful type, aptly named Gilbert, translates the energy and strength of the beloved rainbow flag into text and is made up of the deconstructed stripes of the Pride flag, with multi-coloured rectangles curving and overlapping to produce lettering reminiscent of the flag's '70s roots.
"We wanted to celebrate something that he created that actually changed peoples' perception of that community," Ogilvy creative director Chris Rowson told DeZeen.
"We liked the idea of that crossover and that overlay, it kind of creates new things," he said. "People aren't just one thing, they're not just gay, or not just transsexual, everyone can be a mixture of things."
The font is available for free download from Type with Pride. Its creators hope the eye-catching lettering will be spread across protest posters, Pride rally banners and queer-friendly public spaces around the world.
Ogilvy hopes the font will accompany protest posters, Pride banners, and queer-friendly public spaces around the world.