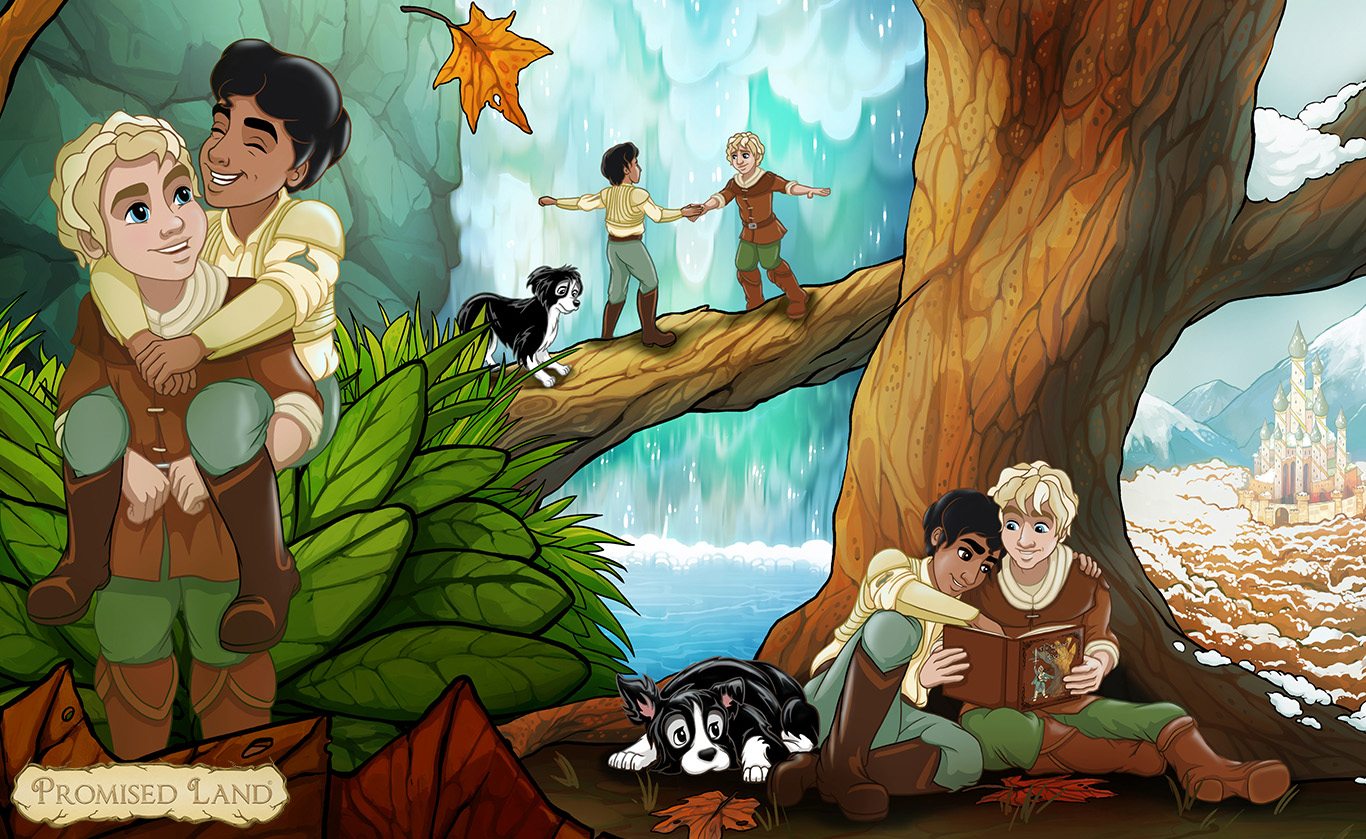 After releasing the children's book Promised Land earlier this year, Wellington-based authors Adam Reynolds and Chaz Harris received global media attention from BuzzFeed, Upworthy, Attitude, Teen Vogue and more. Today, they've released an eBook translation in Te Reo Māori.
---
Whenua Taurangi (Promised Land) was translated with the help of Victoria University's School of Languages & Cultures and a translation provided by Te Ama-Rere Tai Rangihuna and Te Ara-Ripeka Rangihuna.
"Since we're based in New Zealand, we felt it was important to provide a Te Reo Māori edition as we've also had a lot of requests from parents telling us they enjoy reading in Te Reo with their kids."
The Te Reo Māori release comes ahead of Matariki as part of the authors' "Colour With Pride" campaign launched earlier this month to celebrate a colouring book edition being released. Visitors to the website can download free colouring sheets and enter them for a chance to win prizes by sharing on social media with the hashtag #ColourWithPride.
In Promised Land, a young Prince and a farm boy meet in the forest and a growing friendship between them blossoms into love. However, when the Queen re-marries, her sinister new husband seeks control of the enchanted forest and the land the farm boy's family are responsible for protecting.
The colouring book edition is available in digital printable and physical formats and features 42 pages including all 32 illustrations from the book by Christine Luiten and Bo Moore. The authors will also be appearing at a book signing event at the Children's Bookshop in Wellington 1pm – 3pm this Saturday 24 June.
After selling out its first edition within a month, the book has gained a number of celebrity fans with Nathalie Boltt (Riverdale), Jewel Staite (Firefly) and Colton Haynes (Teen Wolf) all sharing their support on social media. LGBTQ activist and Star Trek actor George Takei also tweeted, saying, "I found my prince and my happily ever after, glad this children's book is showing boys that they can too."
Judy Strydom bought Promised Land to read as a bedtime story, and said she had no reaction to the central relationship. "The only question my daughter had after reading it was 'why does the bad man want to control the Queen?', I was glad she didn't see it as anything out of the ordinary, it was just another love story to her."
Digital and physical copies of the colouring book along with Paperback and eBook editions of Promised Land are available now at: www.promisedlandstore.com.