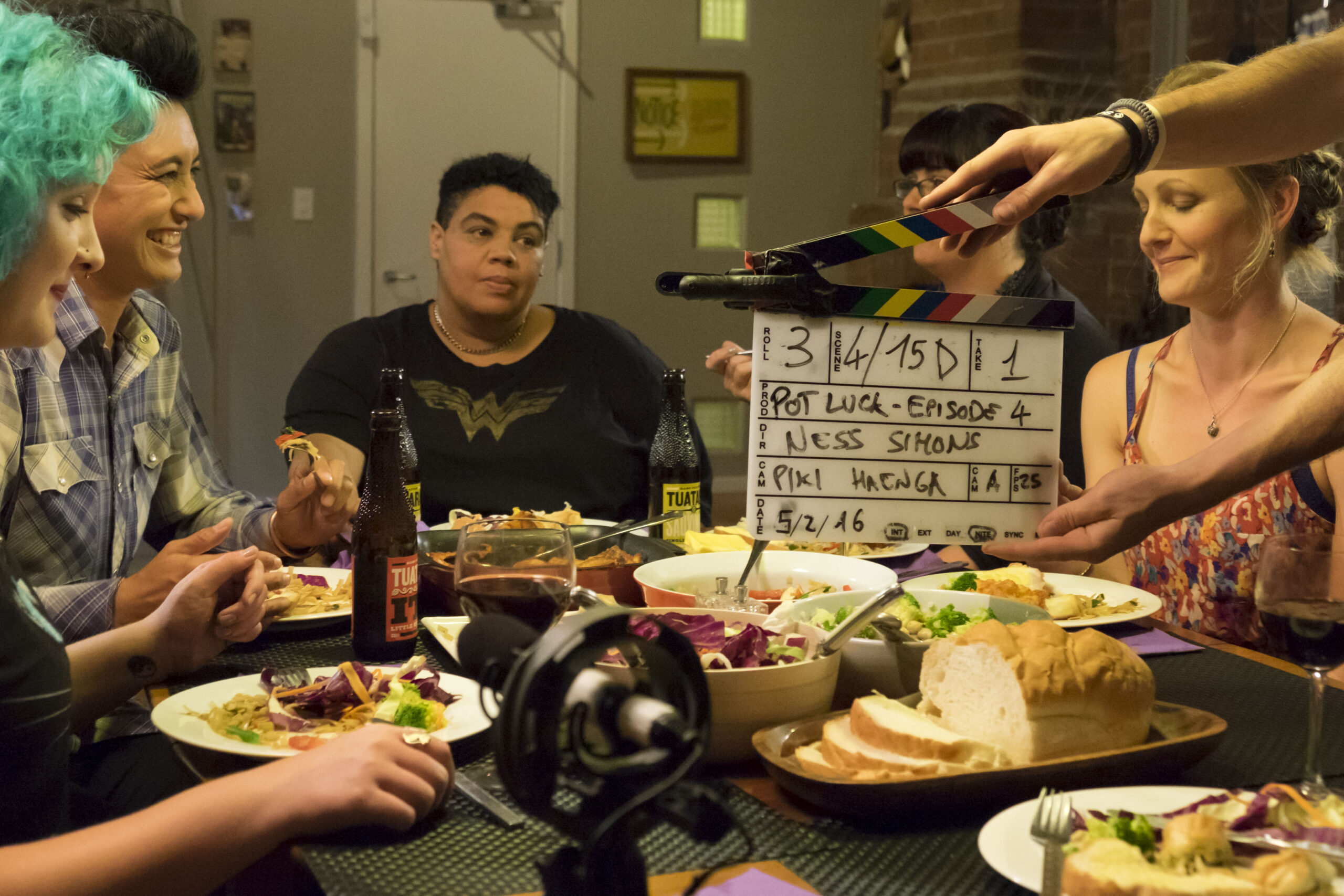 Season one of Pot Luck web series is a fresh, fun, and sexy comedy that explores the lives of three lesbian friends when they make a pact which turns their weekly pot luck dinners into a search for love. Or not.
---
Pot Luck's writer/director Ness Simons, and Producer Robin Murphy, are following up the success of season one with a second season, and are currently crowd funding on the NZ Arts Foundation platform, Boosted, for the remaining money they need to make season two. With just one week left to run, the campaign ends on Thursday 13 July at midnight.
Since the release in 2016, Pot Luck season one has racked up over 2 million unique views across all six episodes on multiple online platforms, and has been officially selected at several international and local web-series festivals, including UK Web Fest, Dub Web Fest (Dublin), NZ Web Fest, LA based Out Web Fest, Melbourne Queer Film Festival and Web Series Festival Global. It was a finalist in the LGBT+ categories at Dub Web Fest and the NZ Web Fest. Pot Luck recently swept the pool in the Rome Web Awards, winning 10 Merit awards in the LGBT+ category, which led to 9 nominations in their Excellence Awards.
With fans from all over the world clamouring for a second season, Simons and Murphy say they are pleased to have secured majority funding from NZ On Air's Digital Fund. "This has been bolstered by contributions from Wellington City Council's Arts and Culture Fund and key sponsor, Hell Pizza." With just a little more fund raising needed to reach their budget target, they're looking to shoot and deliver Pot Luck season two later this year.
Set in Wellington, New Zealand, Pot Luck season one introduced the world to the lives of Mel, (Nikki Si'ulepa), Debs (Anji Kreft) and Beth, (Tess Jamieson-Karaha), three lesbian characters in their thirties and forties. The universal themes of friendship, family and finding love have been positively received by a broad audience both in New Zealand and overseas, with the majority of viewers based in the United States.
Ness Simons, the writer and director, is looking forward to sharing the next stage of Mel, Debs and Beth's friendship and their romantic lives in season two, which picks up a few months after season one finishes. "The past few years have seen some great steps in terms of queer characters on screen but portrayals are still limited, and while there's increasing mainstream acceptance of lesbians in shows such as Wentworth and Orange is the New Black, these characters are in jail and don't really represent the everyday lesbian experience." Ness is committed to creating high quality content that will appeal to a mainstream audience while representing an authentic portrayal of queer life … with a few laughs along the way!
Help the creators of Pot Luck keep the show freely available on line, and become part of the Pot Luck team by contributing to their crowd funding campaign on Boosted – before the July 13. You can also follow their progress on their Facebook page.