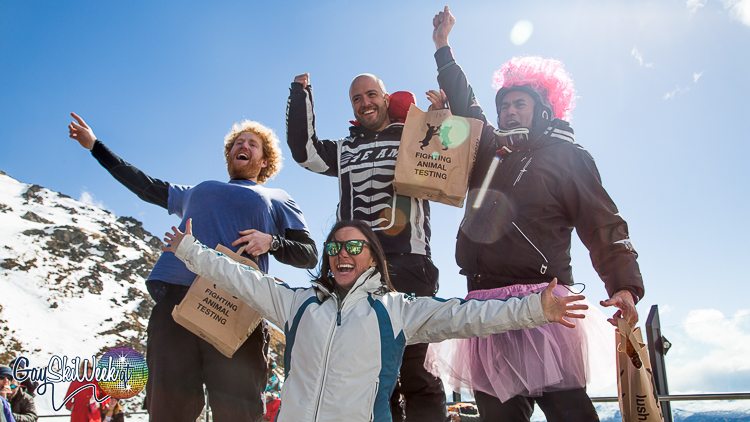 In its sixth year, Gay Ski Week QT has proved that it's both a Rainbow winter staple and the largest winter Pride event in the Southern Hemisphere.
2 – 9 September, 2017
Photos: Evan Donnelly & Tracey Green
---
GSWQT and MoreFM's Roll out the Rainbow competition took place again this year with Queenstown stores required to create a fun and vibrant window/shop display showing their support of GSWQT for a chance to win $1,000 in MediaWorks radio advertising! The winner was Arrowtown Four Square, second place went to Southern Discoveries and in third place, Game Over QT.
Gay Ski Week opened with a bang on Saturday 2 September, taking over Church Street's The World Bar — the perfect venue for the opening party of GSW.
The following night was Gayote Ugly at Lone Star – the local Look Sharp store must have surely run out of cowboy hats and bandanas after everyone's preparation for this one!
There was barely even standing room on Monday night at Ballarat Trading Co. as GSW held its fabulous quiz night with the stunning queens Lilly Loud Mouth, Cinnamon and Molly Station as hosts, testing our knowledge and teasing some fabulous prizes.
Tuesday was a busy one with both Diversity Day up at The Remarkables and the Rocky Horror night in Arrowtown. Everyone was up bright and early to head up to the slopes in their glamorous attire to race with others in the famous Drag Races. Luke Bird was a hilarious emcee and, as always, there were many prizes up for grabs – even for those that just showed up and supported the racers. Upon arrival at Dorothy Brown's Cinema & Bar later that evening, we were given newspaper, confetti, torches, burnt toast, toilet paper and a whole bag of goodies for an interactive experience with the film – it was both chaotic and hilarious as we all did the Time Warp again.
GSW VIPs were treated to a luxurious long lunch on Wednesday at Gibbston Valley Winery. What a stunning experience! Great wine, great company! Later in the evening was the Skycity Karaoke, held at the luxurious Skycity Queenstown. The microphone was on fire from start to finish as all the classics came out. Hosted by Miss Ribena and with a judging panel made up of Kiwi entertainer Luke Bird, Dancing with the Stars judge Stefano Olivieri, Jordan and Anna Bruno from My Kitchen Rules Australia and Miss Kola Gin!
With hundreds of GSW-ers in attendance, Thursday's Cabaret Night was one of the highlights of the week. Emceed by the beautiful Kola Gin, with performances from some of the best drag sisters in the business, Amanduh La, Kita Mean, Chanel D'Vinci, as well as live vocals from Vicki Inia, everyone was in awe of the showmanship and energy on stage. An amazing night of world-class entertainment as well as a DELICIOUS buffet!
Things got hot on Friday at both the toga pool party at Nugget Point and also at the Leather & Lace party at Vinyl Underground. Some photos we can't post because they are fiiiiire!
Finally, in collaboration with PROPAGANDA, Auckland's hottest gay dance party, Gay Ski Week QT closed in style on Saturday night! It was Theta Project's first time on tour and the first Propaganda party with a theme: GOLD!
Theta Project brought their top production team, NZ's top DJs, incredible graphics, unreal sound system, several shows and of course only the best music.
DJ Adam Love, one of Australia's top DJs who has headlined parties and clubs throughout Australia including the globally famous Sydney Mardi Gras Party, kicked off the night. Adam was the first international DJ booked at the original Propaganda party in 2013 so it was the perfect fit to have him spin at the first Propaganda party in Queenstown.
DJ Jordan Eskra, one of New Zealand's favourite gay DJs, closed the night. His crowd-pleasing mixes have filled dance floors at LGBT+ parties and nightclubs up and down the country and he has played all of the biggest gay events in New Zealand.
To wrap up, it was an incredible week filled with love and laughter and with friends, old and new.
For information on next year's news, events, accommodation and travel packages, be sure to visit www.gayskiweekqt.com or www.facebook.com/gayskiweekqt.
Gay Ski Week QT Opening Party
Saturday 2 September
The World Bar
Gayote Ugly
Sunday 3 September
Lone Star
Queer Quiz
Monday 4 September
Ballarat Trading Co.
Diversity Day
Tuesday 5 September
The Remarkables
Rocky Horror Picture Show
Tuesday 5 September
Dorothy Brown's Cinema & Bar
Gibbston Valley Long Lunch
Wednesday 6 September
Gibbston Valley Winery
Skycity Queenstown Karaoke
Wednesday 6 September
Skycity Queenstown
Toga Pool Party
Thursday 7 September
Nugget Point Queenstown Hotel
Miss Kola's Cabaret Skyline Queenstown
Thursday 7 September
Skyline Queenstown
Leather & Lace
Friday 8 September
Vinyl Underground
Propaganda GOLD Closing Party
Saturday 9 September
Memorial Centre