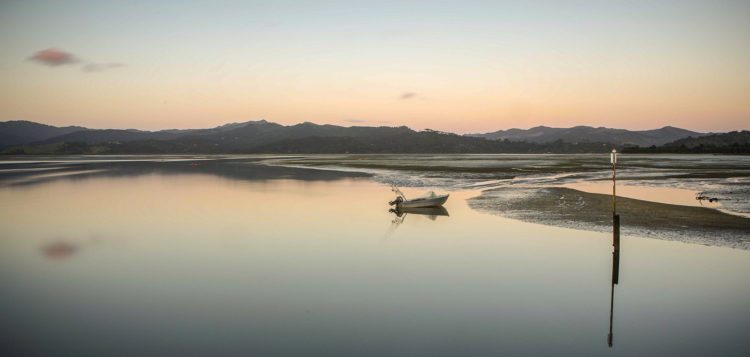 The Mercury Bay Art Escape is back again this year, held on the gorgeous Coromandel Peninsula, we chat to artist Chris Charteris who has been involved since the very beginning.
---
Chris' work is influenced by Māori and Pacific traditional carving, with a career spanning decades, in the mid 1980's he was working at Te Rarawa Marae in Kaitaia when he completed a course in wood carving, bone carving, weaving and Te Reo.
"In just recent times I tend to be quite tuned into forms that look like old artefacts, something that you'd probably find in museums, things based on old artefacts that I've re-invented," he says about his work.
"I'd call them contemporary artefacts."
He's spend quite a lot of time over the years in museum storage spaces and looking at a range of museum collections.
"I've always been fascinated by artefacts and I'm quite interested in that look as well as their form and function.
Influenced by his surrounding he says "We live in the middle of the country in the Coromandel and it's very beautiful here.
"The history of this land, once upon a time it was covered with Māori people and we are not necessarily likely to acknowledge that these days – it's not so obvious anymore. Most of the points around our area have Pā sites on them so I feel a connection to that period in time somehow."
This year he will be hosting an outdoor art workshop on Buffalo Beach, Whitianga as part of the Art Escape.
Held over the first two weekends of March, the Mercury Bay Art Escape features open studios each day from 10 – 4pm. Mercury Bay Art Escape Artists and Art Groups present a wide range of art and craft media, including woodwork, pottery, sculpture, hand forged knives, lamp-worked glasswork, flax weaving, mosaics, painting, photography, printmaking and much more.
Be sure to head to the peninsula for the Gala Opening Night on Friday 2 March with guest speaker T J McNamara – the NZ Herald Art Reviewer.
For more information about the weekend escapes, and to learn more about the artists involved, head to www.mercurybayartescape.com