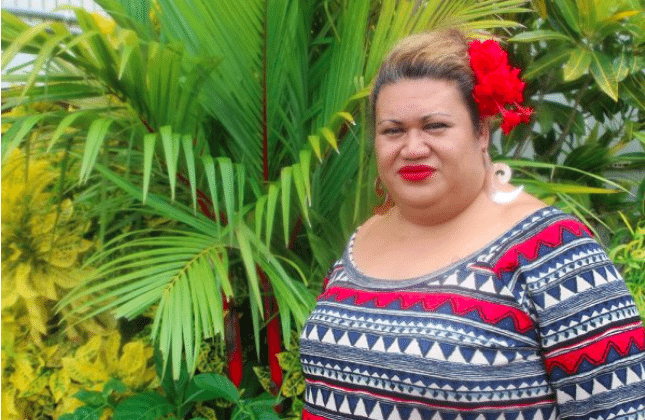 The founder and president of the Samoa Fa'afafine Association, So'oalo To'oto'oali'i Roger Stanley, has passed away.
A well-known leader in the Pacific, messages of condolence are being posted online as communities across Samoa and the world mourn the loss of a passionate human rights advocate.
Helping to form the Samoa Fa'afafine Association in 2006, her vision was to "be inclusive and leave no-one behind."
So'oalo's work with the association was unpaid and she also worked fulltime at the Samoa Tourism Authority.
The Pacific Sexual and Gender Diversity Network (PSGDN) write, "Mama Roger as she was affectionately known within the PSGDN circle was one of the strongholds and pillars for the PSGDN. She was the sitting rep for the Samoa Faafafine Association on the PSGDN Board at the time of her untimely passing. She was a strong advocate for the mandate of the PSGDN during her tenure.
She was full of charisma and life and where ever she was, the atmosphere would be warm & abuzz with fanfare and laughter. Her pleasant and warm personality drew people to her. Those who just wanted to cuddle her or get to know more about her. She was confident, beautiful, an intelligent & smart Samoan fa'afafine, funny, straight-talker, caring and loving.
She was the most active member of the PSGDN Board and the Secretariat will surely miss her demands for updates and contributions to decision making & strategic planning within the Board!
Apart from the many many great initiatives that she lead, drove and oversaw within the Samoan Faafafine Association, one of her greatest achievement was getting the Samoan PM to be one of their patrons. Her sterling efforts was recently acknowledged in the media and being the kind person that she was she acknowledged others who supported her. She was indeed special and influential. And all of these she handled like a queen while having a fulltime day job. Her dedication and commitment to fighting violence and injustices against the fa'afafine and Fa'afatama and the broader LGBTQI community was admirable.
She strongly advocated for Pacific-wide LGBTQI issues in any regional or global forum she was part of and often spotlight the Pacific with her own charisma and mere presence."
The Samoa Fa'afafine Association's Legal Counsel, Alex Su'a, told the Samoan Observer "Roger connected with both the young and old. And that was her strength of being a leader, fast forward now, the Association is well respected in our country."
"Roger was never scared, a fighter and she used that as her strength to advocate for Fa'afafine in Samoa.
"Roger will be sorely missed and her memory and legacy will live on in us who continue the work she started," said Su'a.
So'oalo To'oto'oali'i Roger Stanley spoke of her work with the Association in a feature interview in the Samoa Observer less than a month ago.
Read the feature article here.