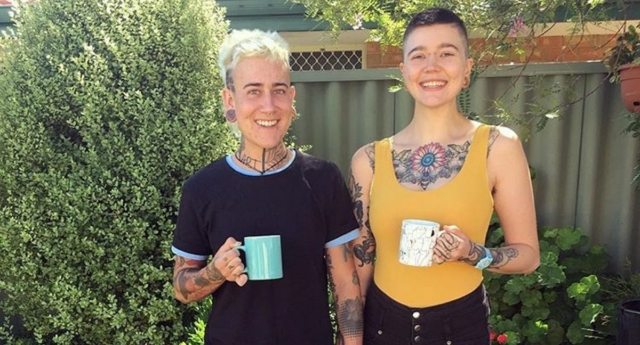 An Australian queer couple were on the receiving end of verbal abuse and discrimination while flying to visit family on New Year's Eve.
Travelling between Melbourne and Perth on New Year's Eve, Cat Franke, 23 and Julz Evans, 26, say they feared for their lives after being "physically trapped with someone who wanted to hurt us and make sure we had a terrible time".
They say Jetstar staff failed to intervene and continued to serve the man drinks until he was so intoxicated "he could barely walk straight or follow instructions".
Franke wrote about the incident on Facebook saying that it was the "most awful abuse and discrimination I have ever experienced" that lasted for hours.
"When I tried to share a kiss with my partner he pressed his face right up to the gap between our two chairs and started mumbling 'kiss, come on I wanna see some lesbians kiss," she wrote.
"My partner and I felt so uncomfortable because of this pervert we immediately stopped our conversation and sat as still as possible, hoping he would leave us alone.
"Unfortunately because we had not met his request he began his homophobic slurs, singing loudly and also mumbling about how we were faggots, dykes and poofters.
"He then began to kick and punch my partner's chair while saying how we weren't equals and rambled about his beliefs about marriage."
The punching continued for hours according to Franke and Evans had to lean forward against the seat in front upon landing.
A Jetstar spokesperson told Fairfax that discrimination of any kind is not tolerated by the airline and that the behaviour review panel would be referred the case.