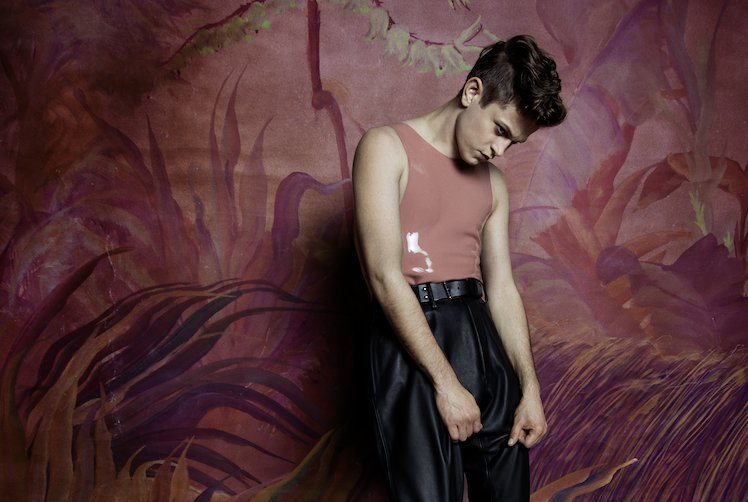 express talks with Mike Hadreas – the Seattle-based solo artist known as Perfume Genius – is a breath of fresh air. His deeply personal music is unapologetically queer and he's never held back – the video for his early single Hood, features well known gay porn star Arpad Miklos sensually covering him in makeup.
---
He wanted his forth studio album, No Shape, to have a warmer feel to it. It was something that felt more difficult for him lyrically than exploring darker memories like he has done previously, a change of pace for the artist, the final track on the album, Alan, is dedicated to his long-term partner.
"It's much more difficult to write something sweet with a lot of love in it and not have it be corny but have it feel still magical and exciting I guess," he says as we chat from opposite sides of the world.
Music, more than anything he says, was a major influence that helped shape his own identity – growing up listening to the likes of Liz Phair, PJ Harvey and Imperial Teen.
When he was in the 6th grade, maybe 12, or 13-years-old, he heard Imperial Teen singing, 'You kissed me like a man'.
"I was so scandalised by it.. I'd never heard anyone talk about that or say anything about it, let alone in music."
He says he'd never seen two men kissing but he just knew that it felt natural and what he was hiding against for a really long time.
"Even Liz Phair singing about sex and stuff; it wasn't my experience, I mean I hadn't had any sex, but I still was deeply ashamed, even though," he laughs, "I hadn't even held hands [with a boy]."
"Her singing about sex without any shame, and without any apology, was really powerful to me."
He says when you're a young person who is queer, just to get through the day you have to carry yourself differently, go against your instincts because your instincts are getting you in trouble.
It's something he says he couldn't do for too long though and he came out when he was 15-years-old.
He recognises that with the platform music provides him, he has an opportunity to highlight queer identities and sing to queer audiences.
"I was so desperate for it when I was younger, just looking for anything that I could see myself in.
"Even now, if I see a queer love story on TV, I cry. It doesn't matter if it's well done, or well written or anything – seeing it on television, I start crying. We need it so bad and even more so growing up."
Hadreas is very explicit about his sexuality because he is seen for that version of himself, he hopes that someone else listening to music is exposed to that more and can see more of themselves out there.
"That's why I don't really hide anything."
He says while he has a responsibility to queer audiences, it's a nice one to have.
"I have had responsibilities but I haven't taken them seriously pretty much my whole life, and I haven't really worked very hard my whole life," he says. "I haven't really done anything or given back if – I'm being honest.
"So, I don't mind that being part of my job and I'm glad that it is because it just feels good. I don't really have a lot of other things that I've done that give me that same feeling, I feel helpful."
There is safety and power in numbers and with the current political climate in the US, I ask him if that's part of the reason for his upcoming move from Tacoma, out in the suburbs, to LA.
"I think that was a big thing. There's very bleak, very shitty stuff going on here and just being in the city, leaving your house and being able to see more people like you, or feel more comfortable, that people have you back and you have theirs – I don't really have that where I'm at now.
"You know, Washington is a liberal state – the cities are anyway – but I can walk around the block a few times and not see another person here and I kind of dress down a little bit just in case; which is just a really demoralising thing to do.
"I understand and I don't really get mad at myself – why would I? – there's nothing wrong, I'm not, not being my true self just because I'm putting a hoodie on instead of wearing a silk kimono out.
He tells me if you're just going to go and get a cheeseburger sometimes you don't want anybody to hassle you, but in LA you'd be totally fine – it's definitely a draw card.
You can catch Perfume Genius as part of the Auckland Arts Festival on Thursday 15 March and in Wellington on March 13 and 14 for the New Zealand Festival.
Tickets are available for the Auckland show via Ticketmaster and the Wellington show from festival.co.nz