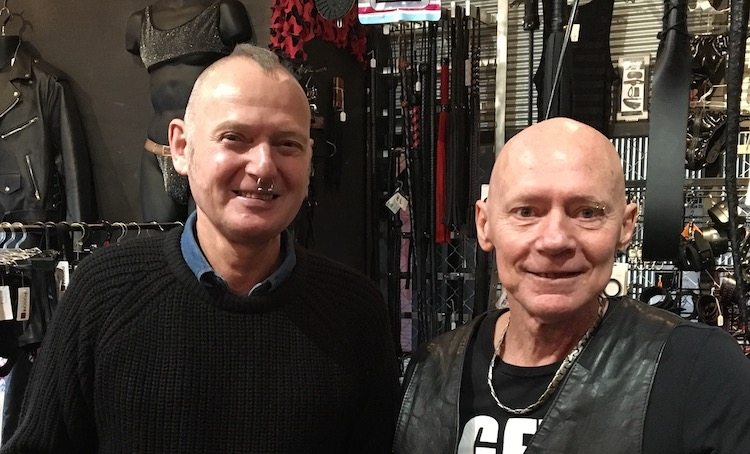 Tim Owen went to Basement last weekend, anybody else? Maybe you recognized him, he was the guy handcuffed in the passageway. Kidding. He was at the glory holes. Still kidding.
---
Tim explains that he was there for work, to meet Neil and Stuart who've owned the place for 14 years, first located in Norwich street in Newton, and now Canada Street. Both kiwi-born, they felt the existing sex shops at that time were unexciting and perhaps a touch too vanilla, so they decided to open their own, catering to a much wider spectrum of tastes. Neil says that running a sex shop is one of the best jobs in the world, he and Stuart get a kick out of people enjoying the space that they have created. These guys are amazing..and have been a couple for 33 years!
Their shop has a unique supply of the more extraordinary sex-toys, such as sounding rods of varying dimensions and cock cages. Dildos of all sizes, some to challenge the most voracious bottoms, and everything in between, like sexy underwear and the latest design fleshlight with multiple orifices. They say the new Fuck Water lube is a big hit too! Parking is private, away from the street in between the buildings in case you are shy about visiting a sex shop.
Of course, Basement isn't just a sex shop, but a gentleman's tea room, too. At least, they serve free tea, coffee and hot chocolate; just because most of the patrons are naked or wearing leather harnesses, suddenly it's a sex club?
Hell yeah, it's a sex club! With endless passages lit only by a dim red light and the glow from televisions playing the latest porn, there's plenty to explore. Aside from the lounge with life-size porn playing on the large screen TV, you'll discover the dungeon room, which has a sling, a TV, a cross and a mirror. Rooms surrounded by a chain-link fence for audience viewing pleasure, and a grope room void of any light where you can bounce around between unseen pecs like a happy little pinball.
On an ordinary day, Basement attracts those who prefer to stay clothed and explore the dark rooms, maybe for an hour after work, or on the weekend. With a large regular client base, it's sometimes also a bit of a social venue. Clothing is definitely not a requirement though.
Not everyone who goes to Basement is looking for the same thing. Some like to watch, others prefer to be watched. Some are vanilla white others are into something a little more edgy. Some are there to play, while others are checking it out, maybe for the first time, getting comfortable and enjoying the general company of men in an erotic setting. Whatever your comfort level, it's a safe place to explore your sexuality and maybe push some boundaries if you choose.
Clean showers with douching facility, private rooms with beds and free condoms and lube, plus snacks, should have your Friday night sorted. And, of course, glory-holes galore, small ones, big ones, raised ones.
Out of interest, I Googled "glory hole" to try find something interesting to share with you, like maybe how this nifty little invention came to be. Expecting the expected, I made sure to be at home, alone, just me, my incognito tab and Google, when I started looking into glory holes. Let me rephrase that; when I started trying to find out more about them. Well, you'll be disappointed, as I was, to find out that it is quite safe to Google glory holes at work because, and who would have thought it, they are actually real things outside of sex clubs and public restrooms, with just a little mention way down the page that reads: a hole in a wall through which people engage in sexual activity. And that is all Google knows about them. So that was boring.
So, anyway, sex club. To mix things up and keep life interesting, Basement hosts theme nights where you can find something a few scoops over from vanilla. Labyrinth of debauchery is a mixed gender BDSM night for masters, mistresses, slaves and kinksters hosted on 25 May. Oops, you missed it; go to their website for details on the next one, but visit their shop in the meantime to stock up on your fetish gear.
22 June is Pig night, where you can try out the theme area, with bath and sling for the guys into sports. On Saturdays closest to the full moon it's the Full Moon Blackout Sex party, and the 1st and 3rd Sunday of each month the Naked Orgy event. Alternate Sundays are Underwear Orgy days.
14 July is Basement's birthday so keep an eye on their website to see what celebrations are coming up so that you are not caught with your pants down by missing out.