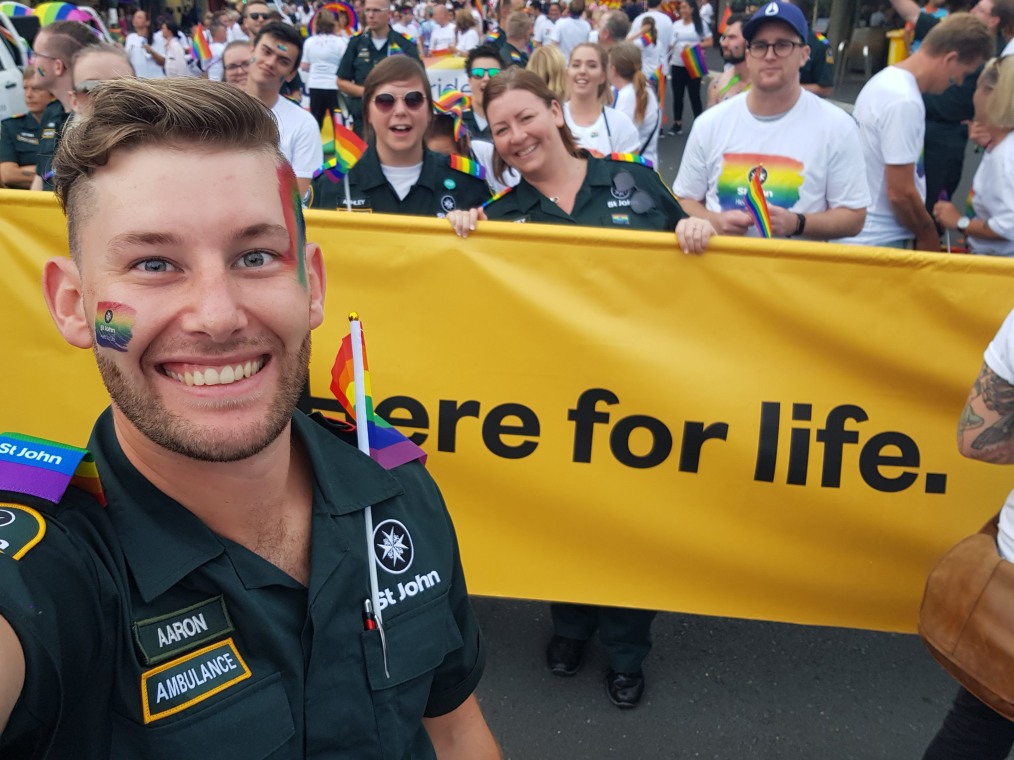 Community hero Aaron Chisholm tells express about life after Married at First Sight.

It has been over nine months since your Married at First Sight experience — what did you learn from your time on your show and do you have any regrets about the experience?
Although I don't regret going through with the experiment, I definitely wouldn't do it again and wouldn't recommend it to anyone either. I think the biggest thing I took away from it was that there are many people that have a complete lack of awareness or consideration for the impact that their actions have on others. It's a trait that I almost forgot existed as it's one I avoid in the people I keep close to me, but when you are forced into close relationships with others, it acted as a reminder that that awareness is not always universal.
Has the show altered your views on marriage at all?
I never had a very traditional or religious view of marriage in the first place so I don't think that has really changed at all. If anything, it's cemented in my view that without a strong and loving relationship behind it, a marriage is essentially a piece of paper absent of meaning and that I shouldn't place so much emphasis on it alone.
What qualities do you ideally look for in a guy?
The standout quality for me is a strong
DIY ethic and willingness to learn/teach themselves new things and give them a go. A "number 8 wire" type of person who's relaxed and able to take whatever life throws at them. Don't sweat the small stuff!
Have you had any romance since the show?
I haven't been in any serious relationships since the show and have been taking some time to focus on myself for a while and enjoy my own company. I'm also looking to head overseas in the near future as well so
I don't think now is the best time to start a new relationship, but you never know what might happen!
Both you and Ben have spoken publicly about his experience of being portrayed as the 'villain' of the show, but what was the experience of being portrayed as the 'good guy' like for you? Were there both positives and negatives to it?
I don't think I've been portrayed as "the nice guy" so much as I've been portrayed as an accurate representation of myself. As much as people will debate it, I feel that overall, there was an overwhelmingly accurate portrayal of most people's personalities and attitudes on MAFS. The public have been incredibly supportive of me since the show and, despite the persistently positive comments, it can be exhausting and quite overwhelming being in the public eye constantly.
Do you stay in contact with Ben?
Not at all. We haven't spoken for many months as I decided that he's not someone who is a positive in influence in my life and, therefore, doesn't have any place in my future.
In general, what reaction have you received from the LGBTI community and has it differed from that of straight people?
I've had an overwhelmingly positive reaction from the LGBTI community and have had many people contact me to wish me well and tell me how much they enjoyed watching. The response has been very similar to that of straight people, and it's just been a whirlwind of pats on the back and positive words. Everyone's been incredibly supportive!
What impact has being a reality show star had on your day to day life, in and outside of work?
For a while, it became very overwhelming and started to affect my mental health in subtle ways. I found that activities that I used to enjoy started to feel like a chore due to the constant attention received in public and the sheer volume of social media contact. It started to affect my relationships with friends and family so I decided to step back from social media for a while. Although all of the feedback was hugely positive, I needed to take some time to myself to be a human again and re-establish the relationships that mean the most to me. I still feel bad for not responding to people who have sent me thoughtful messages, but if I responded to everyone it would be a full- time job. It's taken a while to get used to it all, but things have finally started
settling and I'm happy with how things are going.
What inspired you to become a paramedic?
I had my mind set on the police force for
 a long time but decided to join St John as a volunteer to gain some life experience before applying. Once in the role, I just fell in love with it and haven't looked back since.
How long ago did you start in the role and do you still love it as much now as you did in the beginning?
I started as a volunteer in Dunedin eight years ago, but have been working full time in Christchurch for almost four years now. I think I love the job even more now than I did when I started. It has its days just like any other job, but I still really enjoy going to work every day and I love being able to walk into someone's home at often the worst time of their life and being able to bring order to chaos,
It's a role that requires you to be as fit and healthy as possible — what do you do to ensure you are in the best physical and mental health as possible?
We work pretty long hours and the role can be very taxing on your mental health, so
it's really important for me to have a great support group of friends and family that I can call on when I need to take my mind off things. Getting enough sleep is also of huge importance so that I can be on top of my game during those 4am call outs—blackout curtains have been a real lifesaver here— and trying to plan out meals ahead of time so that you're not caught having McDonald's as your only food option at three in the morning.