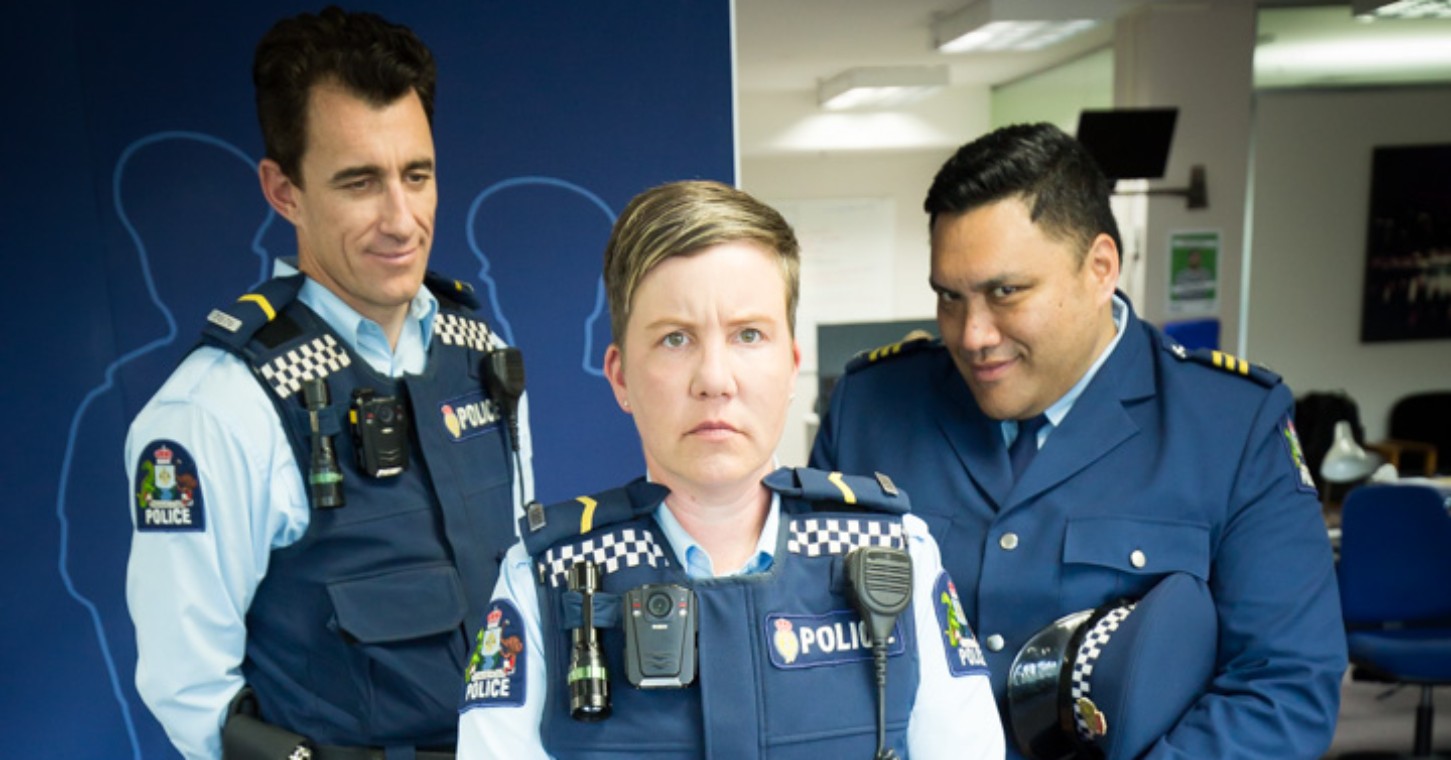 Karen O'Leary talks to Oliver Hall about drunkenly stumbling into acting and scoring roles in What We Do in the Shadows, The Breaker Uppers and TV's top new kiwi comedy Wellington Paranormal.
Karen O'Leary accidentally fell into acting! "My official day job is running a community-based early childhood centre," she explains to express. "One of the parents happened to be the casting agent for What We Do in the Shadows. She approached me one day and said these two jokers were making a vampire film and needed a couple of people to play policemen. Obviously, at this point, I was slightly concerned that she, like many of the children at my work, thought I was actually a man! Turns out she had just forgotten to change the word 'man' for the less gendered 'officer'."
Not fully comprehending the opportunity ahead of her, Karen turned up for her audition hungover. "I went to what I thought was 'a chat', feeling a bit the worse for wear after possibly imbibing one too many beers on Friday night," she explains, "and it was a bloody audition! For some reason, Taika and Jemaine apparently liked my version of a cop and they asked me to be in the movie. Yikes!"
What We Do in the Shadows was unscripted and largely improvised. Karen only met the directors just minutes before filming her first scene.
"So here I was with no idea what I was really doing and Jemaine Clement gives me a very brief overview of the situation and then asks what my name is going to be. I politely ask if perhaps he should know that cause it's his movie. He then proceeds to ask 'what is your last name?' I say O'Leary and he just thought sounded really 'cop'. Then we had to work out a name for Mike (O'Leary's partner Minogue). We made a couple of obvious Kylie jokes and then just settled on Minogue. So you've got a lesbian cop and a cop named after a gay icon. Not too shabby!"
The resulting scenes featuring the detective duo proved popular with audiences and has led to spinoff television show Wellington Paranormal that launched on TVNZ last month. Karen is back playing O'Leary; a diligent, intelligent and staunch police officer who, despite these attributes, generally fails to get one over the paranormal entities she encounters on the mean streets of Wellington.
O'Leary is also a lesbian. "It's really choice that one of the lead characters in a major NZ television series happens to be gay, and it's also choice that I get to play that character because being gay is something feel I know how to do pretty well," she assures.
Karen was happy to take the role regardless of the character's sexuality. "I'd be totally happy to diversify my repertoire and give playing someone straight a go."
In fact, she did just that playing the wife of her colleague Mike Minogue in his web-series The Water Cooler. "I reckon I nailed it (but not him)," she laments. "I also got to play a man in another couple of episodes, so basically all I really need now is to land some sort of really feminine romantic lead role and I'll be known as Ms Diversity."
At the moment though people do seem very keen to cast 'Ms Diversity' as a police officer – a role she was also played in The Breaker Uppers.
"I should point out that I have played a security guard in Ness Simons' web series Potluck so I'm not just typecast as a cop. I'm uniformed lesbian!" She counters. "I'm pretty sure there's a prison guard role with my name on it just around the corner! I've also played a down-on-her-luck tour operator in the short film Grey William. Not a uniform insight there, just some really bad/rad knitted jerseys."
The Breaker Uppers was written and directed by Madeleine Sami and Jackie van Beek who also starred in the two protagonist roles. The majority of cast and crew were also women. A situation Karen feels is 'pretty ace'.
"Women should absolutely be in these roles, it's a simple matter of gender equality! It would be great if women taking leading roles went without saying – we are not there yet but I'm looking forward to that glorious day." She says.
Sadly with pay-gaps aplenty and all-male casts being justified as 'authentic', some days it feels like you are more likely to experience a paranormal activity than gender-equality. Despite filming of Wellington Paranormal having wrapped some time ago, Karen admits she is still having brushes with unexplained phenomena. "I borrowed my sister's car the other day so I could drive lots of kids around, and then a colleague's car over the weekend and both sprung mysterious, spontaneous leaks whilst under my care. I suspect the paranormal is fighting back!"
The final episode Wellington Paranormal screens on TV2 tomorrow Wednesday 15 August at 8.30pm and the whole series can be screened anytime OnDemand.